This article is more than 1 year old
Reporting live from Gartner pandemic watch: IT spending is shrinking by X this year, I mean Y
Don't even get started on 2021.... please
In a world full of surprises where everything subject to change based on humanity's ability to combat an invisible killer, Gartner has calculated IT spending will crash this year and experience a "swoop" recovery next.
The amount of cash splashed on tech is estimated to have reached $3.530 trillion at the close of 2020, which, if correct - and this is a big if - will equate to a year-on-year decline of 7.3 per cent.
"Overall IT spending is still expected to sharply decline in 2020 but will recover in a faster and smoother manner than the economy," said John-David Lovelock, distinguished research veep at Gartner. "Still, organisations cannot return to previous processes that are now rendered outdated due to the disruption of their primary revenues stream during the pandemic".
Spending on IT used to be linked to GDP but this isn't the case with Gartner, at least not these days. The research house looks for what it terms as "signals and noises". The signals are the big shifts, like on-premise software licences moving to SaaS. The noises are important issues such as Brexit or COVID-19 that impact budget and policies.
"From movie theatres to banks, COVID-19 is forcing all organisations to get creative and stay aloft without exclusively offering physical experiences," said Lovelock. "Specifically, CIOs with less immediate cash should plan on becoming more digital than they has originally anticipated at the start of 2020."
Satya Nadella, Microsoft's CEO, claimed during the company's third quarter earnings call in May that the virus had been the catalyst for companies' digital transformations, saying he had seen two years' worth in "two months". Government-imposed lockdowns forced corporations to enact policies, including working from home, that will likely be relevant for months, if not years to come.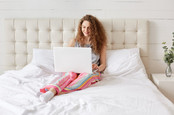 Home working is here to stay, says Lenovo boss, and will grow the total addressable PC market by up to 30%
READ MORE
This is the third forecast Gartner has mustered since January, the first was published before the extent of COVID-19's influence was foreseen and the second in May, after its affects were all too obvious. This latest prediction is softer than the last, in that Gartner has upped 2020 spending by more than $74bn.
Data Centre Systems and Devices are forecast to shrink by 10.3 per cent and 16.1 per cent to $200.9bn, which is worse than the prior projection from Gartner.
El Reg notes the dichotomy in the data centre market: hyperscalers have kept on expanding data centres and buying infrastructure gear to facilitate this, but many enterprises have slammed the brakes on data centre spending. Similarly with devices, PC sales are on the up as more people work from home, but smartphone sales, a much larger part of the device segment, are expected to continue to stagnate.
On the flip side, Gartner said Enterprise Software, IT Services and Communications Services will decline slower than it previously thought: software is forecast to drop 5.7 per cent to $476.68bn; IT Services by 6.8 per cent to $969.4bn; and Comms Services by 3.3 per cent to $1.32 trillion.
Lovelock told The Reg via email that the "cash flow effect is stronger in some areas" that previously expected.
"Cloud spending is the short answer to Software & Services upward revision. Part of this year's revenue growth comes from sales made in 2019. For example, if you buy Cloud HCM software in July 2019, you will spend $6 in 2019 and $12 in 2020. The remaining growth come from sales occurring due to cost optimization early in the year and digital transformations starting in 3Q 2020 and running through 2021."
Conversely, customers with data centres were sweating assets where possible with tech "kept in service past the normal age limits". Lovelock said "Devices and printers suffers the same basic fate, with the added effect that the new & upgrades required to support remote work did not materialize."
Spending in 2021 is currently estimated to hit $3.683.6 trillion, with all areas said to rebound. Of course, this will be subject to multiple re-forecasts: such is the nature of making predictions in the middle of a 21st century plague. Either way, it looks like it will take a while for the industry to reach the levels seen in 2019, when businesses forked out $3.91 trillion. Or maybe not, said the Gartner man.
"By early 2022, IT spending will exceed 2019 levels, but, this smooth top level growth obfuscates the turbulent recovery at the regional and market level… really 'It depends' may be the better answer; Latin America does not return to 2019 spending levels by 2024 but China surpasses 2019 spending levels this year. The Global Devices market never returns to 2019 spending levels but the IaaS market grows in 2020. Remote work pushes Desktop-as-a-Service (DaaS) to 98.5% growth and Cloud Video conferencing to 47% growth in 2020, and cost saving efforts causes Internal IT Staff reductions of 9.7%," concluded Lovelock.
Forecasting is a tough game but someone's got to do it. ®