This article is more than 1 year old
You call Verizon. A Google bot answers. You demand a human. The human is told what to say by the bot
The only winning move is... not to play?
Verizon has turned to Google Cloud's Contact Center AI to automate its customer-service phone calls and chatbot conversations.
"Verizon customers in search of support may soon find a more natural and streamlined digital experience, thanks to a new collaboration with Google Cloud," the US telecoms giant gushed on Monday.
"What they won't see behind this experience is the conversational artificial intelligence that can help customer care agents respond to customer queries, as well as assist consumers directly."
The Contact Center AI technology will, we're told, use natural-language recognition to transcribe on-the-fly customers as they talk down the line. This speech-to-text output will be fed into Dialogflow, a platform that parses the text and generates responses in real-time. Similarly, written conversations with online support chatbots will be processed in real-time by Google's AI.
The overall aim is to allow subscribers to rant, er, complain away using natural language at the computer system, from their keyboards or over the phone, and the artificial intelligence should be able to work out what customers want, and help them out, without them having to navigate a menu or bark simple commands.
And presumably the aim is to sort out simple stuff quickly without a human operator having to come on the line and deal with it. Subscribers with trickier problems should also, we hope, be directed to a human being without having to negotiate their way through a menu or a script of irrelevant procedures.
The software agents can also suggest relevant online documentation, such as information on how to view or pay a bill, based on a subscriber's request.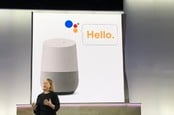 Google answers 'Why Google Cloud?' with services and spectacle
READ MORE
"Whether through voice call or chat, customers will not need to go through menu prompts or option trees; they simply say or type their request, and the natural-language recognition feature finds the best way to assist them. No stilted speech or robot-like commands," Verizon claimed.
Amusingly, if you get through to a human, or demand to speak to a person, the staffer will probably just tell you what the AI wanted to say anyway: the software will, behind the scenes, provide prompts to the call-center workers.
"For live agent requests, the Contact Center AI Agent Assist feature offers Verizon's customer care agents a real-time digital assistant that fetches relevant articles within the knowledge base, and then recommends personalized responses to agents at each turn of the conversation, assisting the care agents in effectively answering customer questions and addressing any issues," the telco said.
Google's Contact Center AI service was launched last July and made available for general use in November. It features two main tools: virtual agent and agent assist. The former carries out basic interactions and connects customers to real humans for further support. The latter processes and transcribes calls and suggests to human agents step-by-step instructions to solve an issue.
It's unclear how and when Verizon will deploy Google's software. The Register has asked the cellular network giant for comment. ®