This article is more than 1 year old
Trump U-turns on foreign student crackdown: F-1, M-1 visa holders allowed to study online mid-pandemic in the US
Funnily enough, triggering a brain drain and denting the economy isn't such a great vote winner
The Trump administration today scrapped its new rule that would have forced up to a million foreign students to leave the United States if their universities didn't offer at least some in-person tuition mid-pandemic.
At a court hearing on Tuesday that was scheduled for initial oral arguments over a lawsuit brought by Harvard University and MIT, the judge announced that she had "been informed by the parties that they have come to a resolution," and the situation will "return to the status quo."
In other words, the new rule, introduced last week, has been dropped.
The surprise announcement follows the decision earlier this week by more than a dozen tech giants including Facebook, Google, and Microsoft, as well as the US Chamber of Commerce, to join the lawsuit against the Department of Homeland Security.
Those bringing the lawsuit argued that forcing F-1 and M-1-visa-holding students to return to their home countries would have an enormous negative impact on both the US economy and the academic institutions themselves, and that the rule had been introduced without any consideration given to the impact or consultation with those most affected.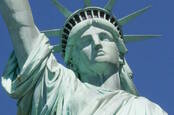 Give me your tired, your poor, your huddled masses... but not your H-1B geeks, L-1 staffers nor J-1 students
READ MORE
The foreign student crackdown was part of a broader anti-immigration push by those in the White House who believe this sort of thing is a potential vote winner for Donald Trump in the November elections.
The President has also been trying to pressure schools to reopen in the past week, in an effort to make the country seem normal again and get the economy back up and running – despite soaring numbers of COVID-19 coronavirus infections in the nation. It is possible he thought that financial incentives – ie: the loss of tuition fee revenue – would force universities to open up and provide in-person lessons rather than the current plan of online learning.
In this case, however, the combination of America's most respected institutions and big business opposing the visa crackdown, along with warnings of economic damage and brain drain, and the fact that most Americans wish their country to be seen as a land of opportunity for the brightest and the best in the world, meant that the rule was a political liability. ®