This article is more than 1 year old
As the FCC finally starts tackling its dreadful broadband maps, Georgia reveals just how bad they are
Spoiler alert: Cable companies are ripping Americans off
Proposed changes to the way the Federal Communications Commission (FCC) measures broadband availability across the US can't come soon enough – as the state of Georgia has made plain.
This Thursday, the FCC will review a second report on how to gather more accurate information about the speed and quality of internet access that people across the country receive, and approve a third "notice of proposed rulemaking" that should finally fix problems with the current system that people have been complaining about for over a decade.
Highlighting just how badly those improvements are needed, earlier this month the state of Georgia released its own broadband availability map that, it points out, is "based on location-specific data, which is a more accurate reflection of which Georgia households have high-speed internet" than the FCC's figures.
That data has taken a year to build and has been turned into a searchable database and online map by the Georgia Broadband Deployment Initiative (GDBI) to highlight areas where people are "underserved" and simply can't get decent broadband despite the official data insisting they can.
To drive the point home, there is even a GDBI versus FCC map where you can drag a bar across the state and see the difference between the figures that the federal government uses to decide how and where to improve internet access and the real on-the-ground situation.
Entirely predictably, the real data shows that broadband availability is far lower than the official figures claim and disproportionately affects rural areas, which just so happen to be less profitable for cable companies.
Reality check(ing out)
The problem lies in how that data is gathered: the FCC requires ISPs to send it data on the broadband services they offer in each census block in the US. Over the years, the cable companies have become extremely adept at using this structure to paint a rosy picture of their coverage.
If an ISP offers services to a single person in a census block, they can claim to provide services to the entire block. And that has led to tens of thousands of decisions about where to provide broadband access. If, for example, a building along a main street sits just inside one census block, a cable company will extend its service a few feet to that building then claim the entire census block is covered.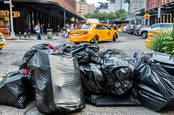 FCC lines up $16 billion for broadband across entire US. Well, except New York because, screw them, right?
READ MORE
Adding to that, no one actually has to have service with a specific ISP for them to claim coverage: it just has to be offered. And so, over the years, Big Cable has engaged in extensive oligopolistic behavior where one company is given effective control of a census block and so faces no competitive pressures, meaning it can raise prices and offer slower services, boosting revenue and profits.
It is all too common for US consumers to be given no choice in provider or else a fake choice between a slower and more expensive service and a faster and cheaper one. In the latter, both companies can claim to offer full service to everyone in that census block while the company effectively in charge makes significantly more profit than if they were in competition. Repeated across the entire US, it is an incredibly profitable exercise.
The reason these shenanigans are important is that the FCC is required by Congress to report on how broadband availability is doing in the US and must act if it isn't improving at a sufficient pace. By fudging the reporting requirements, Big Cable is able to claim coverage that simply doesn't exist in the real world and so also avoid pressure from the federal government to supply it.
Why? Money
In short, it is worth hundreds of millions of dollars a year to cable companies to stick with the flawed system; in the same way the industry makes billions in profits by forcing customers to "rent" cable boxes at slowly increasing prices even when the box itself isn't worth more than a few months rent in total.
To its discredit, the FCC has known about these problems for years and has failed to do anything about it, largely because the cable industry has been fiercely resistant to any changes. Under current FCC chair Ajit Pai, that blind-eye-turning has become even worse. As just one example, he actively proposed and pushed changing the definition of "broadband" in terms of data speeds. An outcry forced him to back down. There are many other examples, including blocking an effort by San Francisco that would have prevented building owners from cutting deals with a single cable company for internet access.
But with internet access an increasingly important part of modern existence, pressure has grown on the FCC to make changes, with dozens of surveys, reports and research projects identifying the same problems over and over again. An earlier one from Georgia revealed just how much of a farce the current official data was. Eventually lawmakers got involved and repeatedly grilled FCC commissioners over what they were going to do to improve the situation.
Law required
Despite years of pressure, the FCC under Pai still failed to act and even pretended there wasn't an issue, ultimately resulting in Congress passing a law earlier this year – the Broadband DATA Act – that literally forces the FCC to change the way broadband data is collected, verified, and reported.
Even now, the regulator appears to be on a go-slow. There is no clear reason why it requires three different "notices of rulemaking" to make changes that had been identified as necessary years ago, or why the most important changes have been pushed off into the third notice – due to be given the green light later this week.
To Pai's eyes, he has been following through on his promise to provide light-touch regulation. To his critics, it is just one more sign that he is in the pockets of the very companies he is supposed to be overseeing.
The second report that will be approved on Thursday does a number of dull but important things, such as ensure that standardized maps are used by everyone and that there is a process for verifying whether data provided by ISPs (mostly cable companies) is accurate.
The third report is much more important and will give consumers means to challenge the maps' accuracy as well as, critically, reform Form 477, which is the way that ISPs submit their information to the FCC in the first place. ®