This article is more than 1 year old
SMIC, SMIC, boom: China's homegrown chip foundry raises £5.27bn as it hits Shanghai Stock Exchange
Will drive investment inwards as trade war continues
Shares in SMIC — mainland China's answer to Taiwanese silicon fabricator TSMC — soared nearly 202 per cent in their first day of trading, after the chipmaker debuted its public listing on the Shanghai Stock Exchange's STAR Board.
SMIC issued 1.68 billion shares at an initial price of 27.46 yuan (or £3.13/$3.92 at today's exchange rate). In the process, it raised 46.28 billion yuan (£5.27bn, $6.61bn).
Stock in SMIC previously traded on the New York Stock Exchange, but the firm delisted in May 2019, citing compliance costs and limited US trading volume. Neither the ongoing trade war, nor the ongoing embargo against Huawei, were cited as reasons. SMIC later began trading OTC (over-the-counter).
SMIC — which stands for Semiconductor Manufacturing International Corporation — was founded in mid-2000. It has a history with TSMC: back in 2003, TSMC sued its mainland Chinese competitor, accusing it of industrial espionage and IP theft. SMIC eventually settled for $175m, and has always denied the accusations, claiming TSMC's '03 suit was the action of a "bully".
The foundry has manufacturing facilities in several major Chinese cities, and has worked with several US-based fabless silicon designers throughout its lifespan, including Qualcomm and Broadcom.
More recently, Huawei began transitioning from TSMC as its exclusive chip fabricator, with SMIC contracted to mass-produce the Kirin 710A silicon. This chip represents a modest improvement on the previous Kirin 710 — a mid-range platform first released in 2018.
Currently, SMIC's top product is a 14nm process, which isn't particularly competitive, considering 5nm chips from TSMC and Samsung are expected to enter mass-production later this year. Moreover, 7nm chips entered production in 2018, featuring on that year's flagships from Huawei and Apple.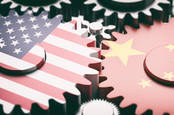 If American tech is used to design or make that chip, you better not ship it to Huawei, warns Uncle Sam
READ MORE
As Reg readers know, in chipmaking, smaller transistors are better. Because it takes less time for an electrical current to pass through them, you can get faster speeds while using less electrical power. That's especially important for mobile devices, which operate under their own charge. Moreover, you can fit more transistors on the same amount of wafer, while also shrinking the size of a processor die.
Chipmaking is an expensive business, and SMIC said it will use the funds raised to invest in its manufacturing processes, in order to make it a more competitive alternative to rivals like TSMC and Samsung.
Nonetheless, SMIC represents a shining jewel in China's high-tech crown, and will undoubtedly play a major role in its "Made in China 2025" aspirations, which will see the nation transform from a consumer to a manufacturer of high-tech products. While this is something of a matter of prestige for China, it also fits into the nation's national security aspirations.
The placement of Huawei on the US's Entity list as well as the further US sanctions on Huawei imposed in May have highlighted the Chinese tech ecosystem's exposure to deals with foreign firms, and how those relationships can become weaponised in bitter geopolitical feuds. As a result, it makes sense to drive investment inward, and nurture existing Chinese competitors to external high-tech companies. ®