This article is more than 1 year old
UK's Ministry of Justice puts out feelers for SaaS ERP with up to £100m on the table
Can't go worse than that time it bought 2.3 million Oracle licences. Right?
The UK's Ministry of Justice has attempted to grab the interest of ERP software slingers by wafting around the prospect of a £100m deal.
In a tender document, the central government department responsible for running courts, prisons and the probation service said it is looking to speak to vendors about the supply, configuration and implementation of a software-as-a-service ERP system.
The MoJ said it wants enterprise software to cover finance, HR and commercial functions in the core department, as well as 33 agencies and non-departmental public bodies, and the territorial offices in Scotland, Wales and Northern Ireland.
"The functions provide critical services such as maintaining HR records, staff recruitment, payroll processing for approximately 82,000 employees and paying suppliers who deliver necessary goods and services," it said.
Under the Government Shared Services (GSS) Strategy, ERP should move to the cloud and departments should "disaggregate" their future technology platform from transactional services "to enable a more flexible and efficient service" the tender stated.
The process of moving all central government departments from a "single operating platform" to a software-as-a-service model is already in the offing.
In April, the Cabinet Office launched a tender for a £15m contract for a consultancy to help it shift central government enterprise applications to a software-as-a-service delivery model as part of an ambitious refresh programme.
It asked for a service partner to "facilitate an operations and technology transformation across finance, HR, payroll and procurement and the replacement of the Single Operating Platform and associated systems... with a SaaS cloud-based ERP solution."
But the nature of the government strategy raises questions about the openness of the MoJ ERP procurement. A GSS document published last autumn [PDF] said that it "currently has the ability to support 3 tier-one suppliers (Oracle, SAP and Workday) with products that meet government's requirements for moving to the cloud (SaaS).
"Our vision is that departments will implement one of these to provide a core platform for storing, managing and processing HR and finance data, as part of a wider ecosystem of products and services to support the exploitation of data and improved user experience."
Responding to The Register's questions about whether it would consider ERP suppliers beyond Oracle, SAP and Workday, an MoJ spokesperson told The Reg: "The MOJ is open to potential solutions for its ERP needs from any software vendor. "The MOJ currently utilises the cross government Single Operating Platform (SOP), which is a shared on premise 12.2.6 instance of the Oracle Software."
The GSS document also referred to user research that said users of the MoJ's current Oracle systems aren't aware of some of the functionality available and added that they found "navigation clunky, and terminology, policy and processes difficult to understand".
It quoted Lorraine Marais, head of user experience, design and information assurance at the MoJ, who said: "We'd all heard the stories, but this research has given us invaluable insight into the very real difficulties our users face on a daily basis."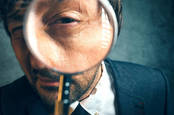 Cornwall councillor suggests authority paid £2m for Oracle licences that no one used on contract originally worth £4m
READ MORE
The MoJ has not exactly had a happy history with ERP.
In 2014, it abandoned plans for a shared service ERP system and wrote off £56m in the process.
In 2015, The Register revealed the MoJ was holding 2.3 million Oracle licences, raising the possibility that it had more than it needed.
It is a large department, but we hope the MoJ has since had the opportunity to examine its provision before going into the next round of ERP procurement with taxpayers' cash in hand. ®