Bork!Bork!Bork! UK broadcaster ITV came under the baleful gaze of bork over the weekend as an unexpected expiration left its online player shorn of those precious advertisements.
Today's televisual treat was spotted by a Register reader, keen to enjoy the delights of ITV Player on his 2018 JVC Smart TV. Rather than seeing the same old adverts, however, our reader was instead presented with an alarming red triangle and text shrieking that that the security certificate for dmp-ingest-itv.tidaltv.com had expired on 10 July.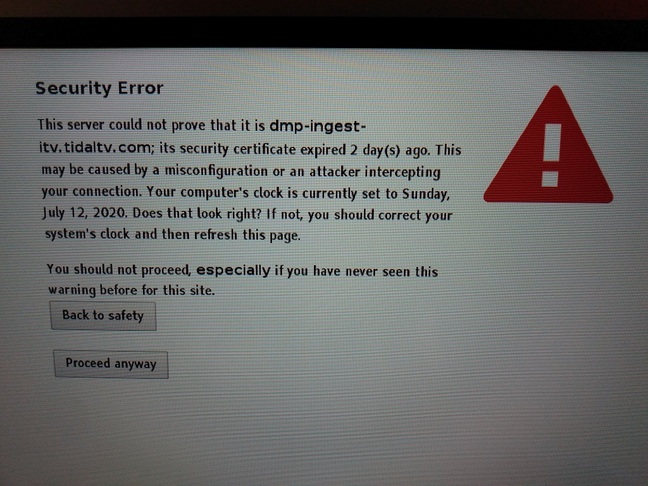 We're of a sufficient age to remember the days when a red triangle on a television screen meant that Channel 4 was about to show something late at night for which "special discretion" was advised. Now it just seems to mean that the only special discretion is in the sweaty hands of admins frantically hitting the "renew" button.
We contacted ITV regarding the problem and were told: "It was a brief technical issue that was swiftly resolved."
The timing was unfortunate. UK broadcast service Freeview also recently fell over for viewers in Brighton, attributed to "engineering work" – by the company, although local paper The Argus suggested new 4G masts might be to blame.
The curse of certificate expiration also struck cloud giant Amazon Web Services (AWS) as another Register reader noted that the code-signing certificate for its PowerShell modules had expired, making popping out a new version signed in the same way potentially tricky, although not affecting what had already been built. It could, however, worry "users who care about security," as our reader bluntly put it."
AWS was quick to reassure those who like to use PowerShell to control its services that the next release, due by the end of July, would use the same certificate as the AWS .NET SDK (so hush now).
As for ITV, its bork looks to lie at the door of tidaltv.com, which is registered to ad-slinger Amobee.
While Amobee did not respond to The Reg's request for comment, the company has said it "unifies all advertising channels – including TV, programmatic and social – across all formats and devices, providing marketers with streamlined, advanced media planning capabilities powered by in-depth analytics and proprietary audience data."
Up until the certificates expire. ®