The Pentagon wants an unmanned military outpost in orbit one day – and this week hired the Sierra Nevada Corporation (SNC) to build a prototype.
Luckily for the aerospace biz, it won't have to start from scratch. SNC, founded in 1963 and headquartered in Reno, Nevada, developed something similar called the Shooting Star, a transport pod designed to be attached to Dream Chaser, a plane it designed to fly in low Earth orbit.
Shooting Star and Dream Chaser were built for an earlier contract awarded by NASA to send 10,000lbs of supplies, such as food and scientific equipment, to the International Space Station (ISS). Now it appears that, while the Dream Chaser is a busted flush for ISS deliveries – it's missing its windows – the Shooting Star capsule could be lofted into orbit as a free-flying craft.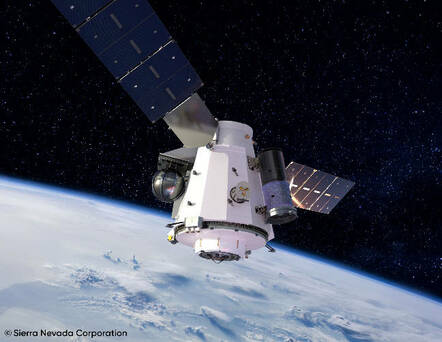 A Dalek with wings? No, an illustration of a Shooting Star ... Image credit: Sierra Nevada Corporation
"The current Shooting Star is already designed with significant capabilities for an orbital outpost and by adding only a few components we are able to meet the Department of Defense needs," said Steve Lindsey, senior veep of strategy for SNC's Space Systems and a former NASA astronaut.
"We are proud to offer our transport vehicle to DoD as a free-flying destination for experimentation and testing, expanding beyond its current payload service capabilities for Dream Chaser cargo missions."
The US Dept of Defense wants the corporation to transform the 16-foot-long pod into what it calls an "unmanned orbital outpost." The machine is expected to fly autonomously in low-Earth orbit, and will be used to carry out military experiments in micro-gravity conditions and serve as a hub for spacecraft to stop and refuel.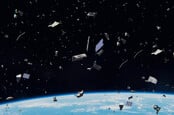 Russia admits, yup, the Americans are right: One of our rocket's tanks just disintegrated in Earth's orbit
READ MORE
It must also support in-space assembly and manufacturing of hardware that can be tested and evaluated for future use. The floating lab may only be for low-Earth orbit for now, but SNC hinted it could build these outposts for orbits further out – think somewhere between the Earth and the Moon.
The exact cost of the contract awarded to SNC by the US Defense Innovation Unit was not revealed.
"We're excited by the multi-mission nature of Shooting Star," said SNC CEO Fatih Ozmen. "It was originally developed for NASA resupply missions to the International Space Station, and since then we keep identifying new capabilities and solutions it offers to a wide variety of customers. The possible applications for Shooting Star are really endless." ®
Similar topics