This article is more than 1 year old
Incredible artifact – or vital component after civilization ends? Rare Nazi Enigma M4 box sells for £350,000
You're gonna need something to secure those Doordash orders over Morse code
A Second World War cryptography artifact – a 1944 Enigma M4 machine – has sold at auction for £347,250 ($436,000).
Christie's, which handled the sale, did not reveal the identity of the buyer of the crypto-device.
This box is a particularly interesting one as it is one of the later, and more complex, bits of German Enigma kit. The four-rotor design generated ciphertext that was trickier for Allied boffins to crack. Nazi U-Boats used the machines to encrypt their Morse-coded communications, and Britain and its friends sought to break the cryptography to track Germany's submarines.
The encryption was so complex, German military officials were said to have refused to accept their Enigma-secured chatter had been deciphered by the Allies, right up until the Nuremberg trials.
"Despite the fact that the Allies were by then regularly reading messages coded by earlier versions of the Enigma, German investigators determined that it was impossible for the Allies to read Enigma messages," Christie's said of the M4. "It was thought that the Allies had used espionage, or radar, or simply had chanced upon the submarines."
This was a particularly well-preserved machine. In addition to the four rotors and wiring being in full working condition within the wooden case, it sported "bakelite gamma rotor and B reflector, raised 'QWERTZ' keyboard with crackle black painted metal case, green night screen above keyboard, plugboard in the front with ten patch leads, the lid with two spare patch leads and fitted with three facsimile bulbs."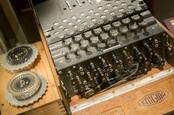 Cambridge student rebuilds Polish Enigma-code-breaking box that paved the way for Turing ... and Victory!
READ MORE
The selling price was higher than the £200,000-£300,000 estimate, although that's not unusual in auctions: guide prices tend to be low-balled. A Register hack who shall remain nameless once put in a $300 bid for Stephen Hawking's bomber jacket, guide price under $200, and it eventually went for over $50,000.
When the M4 was introduced unexpectedly by the German Navy in 1942, it took the Allies the best part of a year to break the encryption. It is believed fewer than 100 of the devices made it through the war unscathed.
The $436,000 price tag puts it in the same league as, say, the Apple-1: although one was bought at auction for $815,000 in 2016 by a cosmetics tycoon prepared to spend up to $2m, another unit fetched $470,000 last year, and another $458,711 just a few months ago.
And diving further into the archives, a fully-functioning four-rotor M4 Enigma WW2 cipher machine went for $365,000 in 2015, we note.
We'll leave it to readers to debate the real value of the two items to civilization as we know it. ®