IBM's net income felt the full brunt of the economic downturn last quarter, falling 46 per cent on the year-ago period, though impressing Wall Street.
The 2020 second-quarter results [PDF] for Big Blue, ending on June 30, made for some mixed reading:
Revenues of $18.1bn were down five per cent from the year-ago quarter, but above analyst estimates of $17.7bn. Red Hat sales were up 17 per cent, we're told, and total cloud revenue reached $6.3bn, up 30 per cent.

Cloud & Cognitive Software, which includes Cloud & Data Platforms plus Red Hat, Cognitive Applications and Transaction Processing Platforms, took $5.7bn in revenues, up three per cent. Cloud & Data Platforms were up 29 per cent, thanks to Red Hat. Transaction Processing Platforms fell 14 per cent.
Global Business Services, which includes Consulting, Application Management and Global Process Services, took in $3.9bn, down seven per cent, due to "declines in application management and consulting." Its cloud revenue was up 12 per cent.
Global Technology Services, which includes Infrastructure & Cloud Services and Technology Support Services, brought in $6.3bn, down eight percent. Its cloud sales were up 18 per cent.
Systems, which includes Systems Hardware and Operating Systems Software, brought in $1.9bn, up six percent, led by IBM Z, which was up 69 per cent. Storage revenue was up two percent, and Power fell. Its cloud revenue was up 22 per cent.
Global Financing, which includes financing and used equipment sales, revenues of $265m, down 25 per cent, "reflecting the wind-down of OEM commercial financing," said Big Blue.

Net income of $1.4bn was down 46 per cent from last year's second quarter. The gross profit margin was 48 per cent, one point higher than expected.
Non-GAAP EPS of $2.18 was down 31 per cent, but better than the $2.09 analysts had predicted. GAAP EPS of $1.52 missed by $0.04.
IBM execs were pretty clear about what was to blame for the falling profits; the global economic uncertainty has frozen spending in many businesses, particularly the big-budget projects where IBM pads its bottom line. CFO James Kavanaugh cautioned analysts on a conference call that the lean times for Big Blue likely won't end until the US and the rest of the world can get the coronavirus pandemic under control.
"The rate and pace of that recovery is going to reflect the pandemic," he said. "We started out pretty strong as the US was getting the pandemic and the curve under control."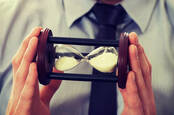 IBM job ad calls for 12 years' experience with Kubernetes – which is six years old
READ MORE
He also noted that other markets, Europe and Asia, were starting to pick up again for IBM's services business as those regions are able to re-open.
Meanwhile, CEO Arvind Krishna was optimistic about the long-term. IBM is keen, we note, to push the fact its cloud revenue is on the up, to demonstrate to investors that it has a future in modern IT.
"Our clients see the value of IBM's hybrid cloud platform, based on open technologies, at a time of unprecedented business disruption," Krishna said in a canned statement. "We are committed to building, with a growing ecosystem of partners, an enduring hybrid cloud platform that will serve as a powerful catalyst for innovation for our clients and the world."
Still, execs are holding off on giving any guidance for the coming quarters, citing the economic uncertainty.
Investors, meanwhile, were also optimistic, despite the cratering profits. The better-than-expected figures and cloud progress, at least in terms of numbers on a spreadsheet, prompted IBM shares to climb by nearly seven per cent before settling around five per cent up in after-hours trading. ®