This article is more than 1 year old
Linux Foundation starts new group to build pandemic-popping software
Decentralised contact-tracing apps from Ireland and Canada are first off the rank
The Linux Foundation has announced a new Public Health initiative (LFPH) that "builds, secures, and sustains open source software to help public health authorities (PHAs) combat COVID-19 and future epidemics."
The new group has seven "Premier members" - Cisco, doc.ai, Geometer, IBM, NearForm, Tencent, and VMware – and has given itself the job of helping contact-tracing apps that use the Google Apple Exposure Notification (GAEN) framework. Over time the group plans to "support all aspects of PHA's testing, tracing, and isolation activities."
That plan has seen the group pick Canada's COVID Shield app and Ireland's COVID Green as the first projects it will back.
The group's plan is to find code that's relevant to its mission, make it open source, then building a community of interested and skilled people to work on it.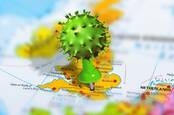 UK.gov admits it has not performed legally required data protection checks for COVID-19 tracing system
READ MORE
"Particularly in the US, PHAs have suffered from decades of underinvestment and urgently need to scale their capabilities to engage with the entire public during the worst pandemic in a century," the group's launch announcement states. "Many companies and individuals in the technology industry are eager to assist PHAs in meeting these challenges and LFPH provides a forum and toolset for them to engage in constructive ways."
"We think our convening function to enable collaboration to battle this pandemic may be our biggest impact," said LFPH general manager Dan Kohn.
As that's the general purpose of the Linux Foundation, the group hopes to share its experience fostering other open source projects, and the experience of participants, to accelerate the development of useful pandemic-amelioration tools.
The group will run an introductory webinar on July 30th to explain itself to would-be participants.
The group's decision to pick Canada's and Ireland's projects and the GAEN framework is notable because they use decentralised data storage. Government operators of contact-tracing apps therefore have no single record to work from. While that approach is good for privacy, it means human contact-tracers may not be able to access records. Australia has shied away from previous plans to adopt GAEN because the nation feels human contact-tracing is vital in the nation';s fight against the novel coronavirus.
GAEN also promises superior performance on smartphones, while Australia has reported that as few as 25 percent of iPhone-to-iPhone encounters are logged by its COVIDSafe app. And despite more than six million downloads and a surging infection rate that has seen residents fined for playing Pokémon Go during a refreshed lockdown, COVIDSafe has not detected a single contact that wasn't found by human contact-tracers.
The Register last week asked Singapore for data describing the performance of its TraceTogether app and was told the relevant government department is "planning to share more details over the next few weeks." ®