Inspire Because its customers apparently can't get enough of meetings, Microsoft has added some new Teams capabilities in the form of Standard and Premium Microsoft Teams Rooms.
While Teams Rooms Premium offloads the responsibility for running meeting rooms (and compatible devices, which Microsoft's partners will be overjoyed to flog to customers) to Microsoft, the Standard version (formerly known as "Meeting Room") unveiled at the company's virtual Inspire event adds options to the Teams Admin Center aimed at making the management of a fleet of Teams Room devices easier.
Unsurprisingly, the $15 per device per month of the Microsoft Teams Rooms Standard is quite a bit down from the $50 per device per month of the Premium version (although the latter is due to receive some extra "experiences" at some point in the future).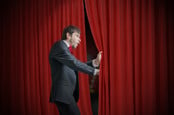 Windows Server spotted behind cloudy curtain as Microsoft unveils the next generation of Azure Stack HCI
READ MORE
As well as improvements around the meeting room experience, Microsoft also teased a new Power BI app for Teams users aimed at creating a single place for data and visualisation rather than the scattergun approach sometimes seen today. Power Apps developers and those responsible for chatbots will also be able to make and manage their emissions directly in Teams, with apps built with Power Apps at last understanding the form factor on which they are running.
Both the Power BI app and Power Apps features are due to land in August, with the latter in Public Preview form. The former will turn up in the Apps section of Teams.
Microsoft is also adding extra security features to its Microsoft 365 platform, including public previews of Endpoint Data Loss Prevention (DLP), extra toys for its Insider Risk Management and Communication Compliance system and new double key encryption.
DLP is all about stopping data leaking out of an organisation via context-based policy enforcement. It already features in the likes of Teams, SharePoint and OneDrive. Endpoint DLP extends things, and is built into Windows 10, Microsoft's Edge browser and the Office applications making an additional agent to monitor things redundant.
Insider Risk Management now features additional Windows 10 signals to spot (for example) when files are being copied to USB or network shares. Other new signals come from the likes of Teams and Exchange to soothe enterprises feeling a bit nervous about employees suddenly remote working.
Finally, the public preview of Double Key Encryption for Microsoft 365 will see two keys being used to protect data. One key is under the control of the customer while the other is retained by Microsoft. Both are needed to view data (meaning that the Redmond gang cannot access confidential information). ®
Similar topics