Motorola Moto G 5G Plus: It won't blow your mind, but at £300 we're struggling to find much to grumble about
Conservative, competent entry-level blower for the next-gen networks
Review The Motorola Moto G 5G Plus sits among the inaugural sub-£300 5G handsets. While the Lenovo-owned phonemaker is happy to tread that unfamiliar ground, the handset doggedly sticks to the tried-and-tested Motorola playbook, with decent performance and photography alongside a pristine stock Android experience.
Motorola seeded The Register with the entry-level model. Under the hood, you'll find Qualcomm's mid-range Snapdragon 765 octa-core silicon, which uses a 7nm process and includes the Adreno 620 GPU. The cheapest variant of the Moto G 5G Plus comes with 4GB RAM and 64GB of UFS 2.1 storage. Pay a bit extra, and you can double your storage and increase the RAM to 6GB.
Performance was reasonably fluid, with media-rich sites opening swiftly. And though it may not be most relevant for the grizzled IT veterans that comprise our readership, the Moto G 5G Plus proved capable of keeping pace with several taxing games, including Call of Duty: Mobile.
On the storage front, you might quickly find that 64GB might not meet your needs – particularly if you prefer to store your music library locally, or you're a consummate hoarder of apps. Fortunately, there's room for a micro SD card. Motorola should be commended for using UFS rather than the cheaper (and vastly slower) eMMC standard – even if this version of UFS isn't necessarily the most bleeding-edge.
In terms of ergonomics, the phone feels light – helped by its all-plastic chassis. It's not the most premium-feeling of devices I've ever used, but certainly felt nicer to hold than, say, the TCL 10L. On the right side you'll find a power button that also doubles as a fingerprint reader. I'm a big fan of this approach as it feels a lot more natural than a rear-mounted fingerprint reader.
The display is 6.7 inches with a tall 21:9 ratio and a resolution of 1,080x2,520. With a 90Hz refresh rate, animations felt fluid. It's also wonderfully bright, with text remaining readable in sunny conditions. Towards the top left, you'll spot the two hole-punches housing the 16MP and 8MP selfie cameras.
The Moto G 5G Plus runs Android 10. Sadly, there's nothing to indicate that this phone is part of the Android One programme, meaning it's unclear how many software updates it'll receive over its lifespan.
Fortunately, Motorola's approach to customising Android is constrained, with the UI interactions mostly intact. The most visible bit of modification is the phone's animated background, which I rather liked.
Tilt the phone towards you, and you'll spot the included 3.5mm headphone jack (somewhat of an endangered species in 2020) and the USB-C charging port. Mercifully, this supports 20W fast charging – which is good, considering the device ships with a generously large 5,000mAh battery. Motorola reckons this will get you two days of use, which proved fairly accurate in our testing.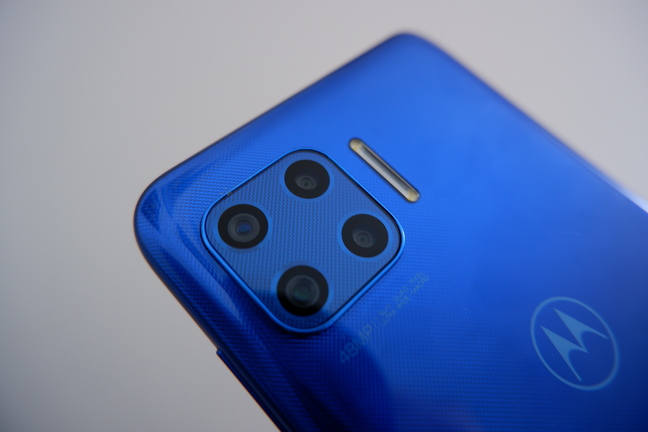 Camera-wise, there's a 48MP primary sensor. High-density sensors are common-as-muck these days, particularly on the low-to-mid spectrum of the market. And you seldom actually get 48MP. The Moto G 5G Plus uses pixel binning – branded as "Quad Pixel Technology" – to combine four pixels into one to improve low-light performance.
Accompanying this is a 5MP macro lens, a 2MP depth sensor, and an 8MP ultra-wide-angle lens. There's no telephoto or periscope zoom lens, and nor would you expect there to be, given the price.
Camera performance was solid, with close-ups detailed and solid colour performance. While it doesn't compare to what you'd get with the Huawei P40 Pro or iPhone 11 Pro Max, it's perfectly competent for day-to-day shooting.
Ultimately, the Moto G 5G Plus is a decent entry-level 5G phone, and ticks most boxes – including a solid battery and day-to-day performance, and an excellent display. For £300, it's really hard to fault it. ®