This article is more than 1 year old
It's a process: Nokia pushes out its first private 5G standalone product, eyes industrial types
Fancy integrating next-gen tech into your IoT, cameras, sensors, and robots? Well do you?
Telecoms giant Nokia has lifted the lid on a fast, low-latency cellular connection for industrial kit – its private 5G SA (standalone) product, with some of it to be plumbed into a test mine near the Finnish city of Tampere.
At the heart of the kit – which spins up a local cellular network – is a new 5G SA core network product, compartmentalised and commoditised to be deployed on-campus. This connects to the firm's AirScale radio and baseband equipment.
Speaking to The Register, Nokia declined to comment on costs, but suggested that the next-gen private network services would be less expensive than an equivalent Wi-Fi 6 network.
The firm has aimed its Nokia Digital Automation Cloud – which it described as a "plug-and-play system with automation enablers" – at these enterprise customers, although it added that they could "further customize their network" with Nokia Modular Private Wireless.
5G offers unique advantages to existing 4G/LTE-based private networking kit, the firm explained. Some of these are common with more common public networks — such as low-latency connections and oodles of throughput. But separately, they tend to have more consistent access to large chunks of spectrum, whereas support for private 4.9G is patchier, if not completely unavailable in several territories.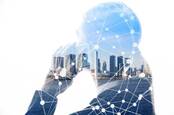 Mirantis gros fromage quits to start new 'private LTE' biz on open-access spectrum
READ MORE
According to analysts at Mobile Experts, the private LTE and 5G market is expected to be valued at $4bn this year, and is forecast to hit $10bn by the decade's halfway point. Separately, Grand View Research estimates that the biggest customers will be found in manufacturing, energy, aerospace, and logistics – collectively accounting for half the market.
Nokia has already rolled up several customers, including Lufthansa Technik and Scandinavian mining gear maker Sandvik, which owns the Tampere mine. It expects wider commercial availability later this year.
Fellow Scandinavian rival Ericsson is not far behind, however, already trialling private 5G SA kit with selected customers, in advance of a full-speed commercial product further down the line.
Late last year, Qualcomm and Siemens teamed up to test a private 5G SA network in a proof-of-concept project at the Siemens Automotive Test Center in Nuremberg and Siemens.
On the telco network side of life, both network kit vendors have positioned themselves to benefit from the recent Huawei ban in the UK, with all mobile networks ordered to rip out the Chinese firm's next-gen kit by 2027 and stop buying it by the end of the year. The head of Nokia Britain told newswires last week: "We have the capacity and expertise to replace all of the Huawei equipment in the UK's networks at scale and speed, and are ready to step up to support the implementation of the UK government decision with minimal impact on the people using our customers' networks."
Meanwhile, Ericsson's Arun Bansal, president of Europe and Latin America for the Swedish firm, said: "We stand ready to work with the UK operators to meet their timetable, with no disruption to customers." ®