Microsoft pulls dust covers off Dataverse*: Low-code data access from Teams
New, or just a rebrand of Common Data Service? A bit of both
Updated Microsoft has announced Dataflex*, a "low code data platform for Teams," showing off the relational database management technology to its partners at its virtual Inspire event.
The new Dataflex is described as a "built-in, low-code data platform for teams", and is set for public preview in August.
There will be no extra cost for the Dataverse feature itself but customers will pay for apps they deploy at the normal rate. The cost of deploying Power Apps, for which Dataverse is designed, is currently $10 (£7.50) per user/app/month or $40 (£30.20) per user/month for unlimited apps.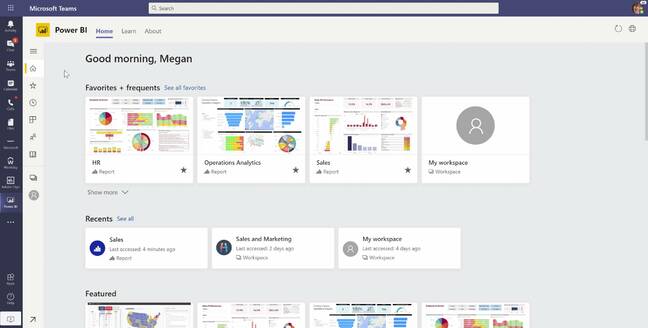 PowerBI data visualizations now appear on a tab within Teams.
Dataverse is, in part, yet another Microsoft rebranding exercise. It is built on the Common Data Service, a unifying web API for accessing data in Dynamics 365, and extended to integrate with SharePoint and OneDrive.
The Common Data Service, which has been around for several years, is now renamed "Dataverse Pro".
It is true that Common Data Service was a misnomer, since it was closely hooked to Dynamics 365 and did not cover other important data sources such as SQL Server, for which you need a separate data connector. That said, users can create their own custom data tables using Dataverse, without needing to configure external storage or database services. This is what the company calls "low code data storage."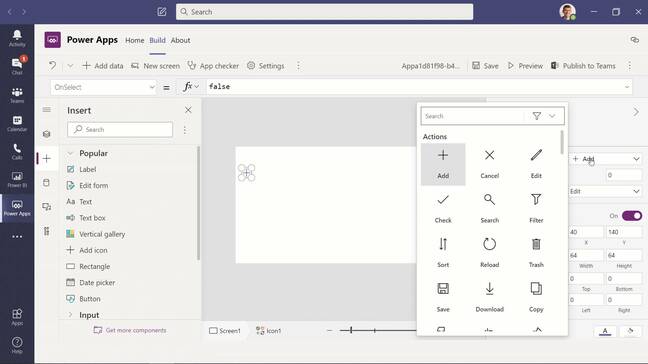 Click to enlarge
Power Apps is a feature of Microsoft's "Power Platform," which also includes Power BI (data visualisation), Power Automate (workflow automation), Power Virtual Agents (chatbots). Power Apps is the custom application piece, designed to be accessible enough that "citizen developers" can get in and make their own custom solutions.
Teams users will now have easier access to making Power Apps, thanks to an integrated app studio that will appear within the Teams UI. Microsoft said this "is all made possible by Dataverse."
Users will be able to create and edit custom apps and workflows, and publish them to their Teams colleagues. Microsoft is also promising that creating chatbots, sorry "virtual agents," will also be easy for users "without coding or data science backgrounds."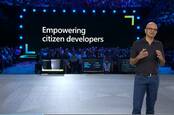 We need citizen devs, cries Microsoft – but pricey new licensing plans for PowerApps might put paid to that
READ MORE
Microsoft said that "by making the bot creation process more approachable and intuitive for users without a software development background, it empowers the people that know the business to create bots and can quickly adapt the conversation to changing policies, information, and business needs."
The company is running "App in a Day" virtual events in cooperation with its partners, for those interested in getting started. There is also a new Power BI app for Teams which promises "a more streamlined experience for accessing Power BI reports."
Microsoft is also opening up the Teams Meetings to developers, with the ability for third-party applications to add custom content within tabs and their own buttons on the meeting control bar.
There are a few snags with the Power Platform. One is that, like Teams itself, it is composed of various diverse pieces some of which are complex and full of legacy – not least Dynamics 365, which is notoriously fiddly to work with and in places, by no means intuitive.
Another is the cost, with a Power App likely to be an expensive solution compared to other ways of deploying applications – though if users can really deploy something useful without paying professional developers, that mitigates the extra expense.
The other question is whether Microsoft is over-promising when it comes to what citizen developers can achieve. "We look at the Power Platform as a highway to turn all 23,000 employees into engineers," trilled Chris Wagner, analytics architect at Rockwell Automation. In an industry laden with hype, this must be among the least realistic claims we have witnessed. ®
Updated at 07:50 UTC to add
Microsoft's initial posts on Dataverse and Dataverse Pro are not a model of clarity when it comes to pricing or the difference between the two. Power Platform Advisor Jukka Niiranen does a better job, stating that the non-pro version will be free for licensed Teams users.
This free version will work only in Teams and will have a limited security model and business logic and no access to "premium connectors." Niiranen said he considers it a big deal and expects "explosive growth of different app environments within the tenant," though he rightly notes that "the growth in potential app makers is surely going to put more pressure on building a Power Platform governance model."
Microsoft has yet to reveal the full details of the capabilities of Dataverse vs Dataverse Pro.
There is a snag though. We spotted Data Access Worldwide CEO Chip Casnave saying yesterday: "We are totally surprised by Microsoft's use of DAW's registered trademark DATAFLEX …. we will be consulting trademark legal experts for advice and will post updates as more is known."
Watch this space. ®
*Updated at 07:50 UTC on 2 March 2021 to add:
The original article included Microsoft's initial product name "Dataflex", which was later replaced with "Dataverse", seemingly after the a trade name issue with Data Access Worldwide.