This article is more than 1 year old
SEC drags Silicon Valley AI upstart to court over claims of made-up revenues, investors swindled out of $11m
No, surely not, no way, we're utterly shocked
America's financial watchdog has taken a Silicon Valley AI startup and its CEO to court for allegedly swindling $11m from investors by forging fake bank statements to lie about its revenues.
YouPlus, based in Mountain View, California, bragged it had developed machine-learning software that could analyze videos to automatically glean data for marketing and retail companies. Founded in 2013 by CEO Shaukat Shamim, the upstart reportedly raised a total of $17.5m in seed funding over six years, yet banked less than $500,000 in revenue from four customers.
The lawsuit [PDF] filed by the US Securities and Exchange Commission (SEC) this week alleging most of that funding, some $11m, was granted in 2018 and 2019 based on the startup's false claims about its annual revenue. Investors duped by the fake earnings dumped millions into YouPlus, the watchdog charged.
Shamim allegedly boasted that YouPlus had more than 150 customers, including notable names from the Fortune 500 list. He gave different numbers and projected different financial forecasts to different VCs, though, the SEC noted.
For example, in June 2018, Shamim told investors he expected $8m in revenues for that year, and had already booked $1.5m so far in 2018, it is claimed. He reckoned his business was going to grow by five times, bringing in around $40m for 2019, the watchdog alleged.
In another pitch to a different group of investors, however, Shamim revised those numbers slightly, we're told: he said the startup expected $7.8m in revenues for 2018, and had already scored at least $1.1m that year.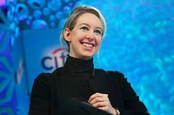 US piles yet more charges on Theranos CEO, COO. We could do with good blood testing now... and this wasn't it
READ MORE
He continued to spin his web of lies in 2019 to woo more VC firms, the regulator claimed. In an effort to slurp more funding, Shamim handed prospective investors counterfeit bank statements that showed YouPlus had made $4.6m from its paying customers in 2018, it is alleged. He also concocted two financial models; one said YouPlus had made $3.55m from January to April 2019, and another reported $3.97m for the same time period, we're told.
That number was then bumped up to $4.62m, for January to May 2019, to show existing investors and shareholders that the company really was on track to pull in $17.8m that year, the SEC said. At one point, Shamim claimed YouPlus was doing so well, he was lucky he could "pick the investors" he wanted, according to the SEC's court filings.
He also told some investors the company was making more money than its predicted, and that it may not need more funding after all. When he said a famous Silicon Valley VC had committed to invest $3m to $4m in the biz, one investor took the bait and wired YouPlus $550,000 a month later, we're told.
By this time in mid-2019, however, the company was somehow desperately running low on cash and had, in fact, not secured any series A funding at all, the watchdog said.
In September 2019, Shamim contacted previous investors and asked for more money to meet its payroll expenses, according to the SEC. One venture fund, which had already funneled in $600,000, was concerned, though pledged another $250,000 and asked the biz to divulge further financial information.
The same venture fund slipped another $300,000 by October 2019, and continued to ask for more details to prove YouPlus really was making what it said it was. Shamim eventually gave them fake bank statements that showed its customers depositing money into the company's bank account, it is claimed.
The investors decided enough was enough, and confronted him in a meeting, where Shamim finally admitted that he had exaggerated YouPlus' achievements, according to the regulator: he said he had "got ahead of [himself]."
At the end of the month, we're told, he was sent a long email summarizing the meeting that said he had, indeed, "admitted to misrepresenting both YouPlus's actual revenue earned to date, and its projected revenue for the 2019 fiscal year, in order to secure the [investor's] investment in YouPlus." The email also said he "provided the [investor] with forged bank and payroll statements in an effort to conceal YouPlus's true financial condition."
Shamim later dropped a bombshell, and admitted YouPlus had only made $499,972 from customers in India and the US, and that he personally pocketed $1.3m from the company, according to the SEC.
Now, the SEC has stepped in and sued Shamim and YouPlus in a federal district court in San Jose, citing the Securities and Exchange Acts, and claiming the biz defrauded its investors by $11m. It seeks fines and court orders forcing the operation to pay back the money. The regulator also requested that Shamim be banned from leading any company that is registered with the SEC in the future.
The Register has asked Shamim for comment. ®