Taiwanese Qualcomm rival MediaTek has lifted the lid on its latest 7nm-process chip, aimed at the mobile mid-range.
Competing with Qualy's Snapdragon 765G platform, the MediaTek Dimensity 720 provides support for 5G, as well as other middle-ground staples like native 90Hz support.
The full specs are here.
The Dimensity 720 belongs to MediaTek's more aspirational smartphone chip line, ahead of the Helio-design chips that are abundant on devices below £300/$300. As you'd expect with any tech launch in 2020, many of the pertinent details have trickled out in the days prior to its official launch.
The Dimensity 720 uses an Arm big.LITTLE design, with two high-performance Cortex-A76 cores paired with six Cortex-A55 cores.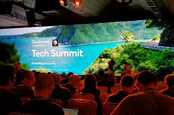 We took a shot every time Qualcomm said 5G, AI or mobile gaming in its Snapdragon 865, 765 system-on-chip launch...
READ MORE
There's also an Arm Mali-G57 and an on-chip 5G modem that supports sub-6GHz 5G SA and NSA. This incorporates MediaTek's UltraSave tech, its answer to Qualcomm's PowerSave. Like the latter, it monitors network and content use in order to optimise battery performance. The new MediaTek product also supports dual SIM cards – one with a 5G connection, and another using LTE.
The sub-6GHz networks part strongly suggests it doesn't support mmWave tech, which is still rare in the wild. We have asked MediaTek for confirmation. We note that Qualy's Snapdragon 765 does support 24GHz-plus frequency bands so this is a differentiator.
The Mediatek chipset also native support for UFS and LPDDR4X RAM, 64MP cameras, and HDR10+.
Existing Dimensity chips have allowed MediaTek to claw back some share in the top-to-middle reaches of the market, appearing on phones from brands like OPPO, Huawei, and Xiaomi.
The newest version might allow MediaTek to be more competitive in the high-volume £300-£500 market, which is currently dominated by chips like the aforementioned Snapdragon 765G, which appears on both the Motorola Moto G 5G Plus and the OnePlus Nord. ®