Microsoft Q4 sales up, profit down, shares down. More importantly, someone reboot the CEO. He keeps repeating 'tech intensity' over and over
Welcome to the new Digital Transformation, folks?
---
Microsoft on Wednesday reported $38bn in sales for the fourth quarter of its fiscal 2020, an increase of 13 per cent that failed to impress investors, even though this exceeded Wall Street's expectations.
Financial analysts on average had anticipated $36.5bn for the quarter – the three months to June 30 – though investors nonetheless punished Microsoft's stock in after-hours trading, sending it down more than three per cent after gains of about 1.5 per cent earlier in the day. That may have something to do with the company's most recent profits. Here's our summary of Microsoft's official numbers:
Total revenues of $38bn, up 13 per cent year-on-year amid, we note, the coronavirus pandemic.
Operating income came in at $13.4bn, an eight per cent increase year-on-year.
Net income, or profit, was $11.2bn, a 15 per cent decrease year-on-year.
Diluted earnings per share came to $1.46, also representing a 15 per cent decrease.
Operating expenses were $12.3bn, up 13 per cent.
Part of that expense included a one-time $450m charge to cover the cost of closing Microsoft Store retail locations, a decision announced last month.
Productivity and Business Processes revenue reached $11.8bn, a 6 per cent gain.

Office Commercial products and cloud services revenue rose 5 per cent, buoyed by Office 365 Commercial revenue growth of 19 per cent.
Office Consumer products and cloud services revenue grew 6 per cent as Office 365 Consumer subscribers increased to 42.7m.
LinkedIn revenue increased 10 per cent, yet there are still layoffs expected among staff.
Dynamics products and cloud services revenue jumped 13 per cent, mostly due to Dynamics 365 revenue growth of 38 per cent.
Intelligent Cloud came in at $13.4bn, up 17 per cent.

Server products and cloud services revenue rose 19 per cent, largely from Azure revenue growth of 47 per cent.
Enterprise Services revenue remained more or less unchanged.
More Personal Computing delivered $12.9bn,up 14 per cent.

Windows OEM revenue increased 7 per cent.
Windows Commercial products and cloud services revenue rose 9 per cent.
Xbox content and services revenue surged 65 per cent – thanks, COVID-19!
Surface revenue expanded 28 per cent.
Search advertising revenue got binged, plunging 18 per cent.
For Microsoft's full fiscal 2020 year, the 12 months to June 30, the Windows giant reported:
Revenue came to $143bn, up 14 per cent.
Operating income was $53bn, up 23 per cent
Net income was $44.3bn, up 13 per cent.
Diluted earnings per share was $5.76, up 14 per cent.
Satya Nadella, chief executive officer of Microsoft, offered a jargon-filled statement that doesn't really offer much insight into the company's performance: "The last five months have made it clear that tech intensity is the key to business resilience. Organizations that build their own digital capability will recover faster and emerge from this crisis stronger."
It's fair to say that in the past two decades, no one has surpassed the tech intensity of former CEO Steve Ballmer. But how Nadella's exhortation for organizations to build their own digital capability fits with Microsoft's desire to have companies outsource their computing to Azure isn't entirely clear.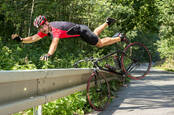 IBM profits cratered 46% last quarter. But its share price is up ~5% because Wall Street expected that to be worse
READ MORE
In an email to The Register, Vadim Tabakman, director of technical evangelism at Nintex, a process automation service that works with Azure, said he expects Microsoft's cloud business to keep growing due to the ongoing shift toward remote work due to the coronavirus pandemic.
"Every organization is trying to figure out how to do more with less which has amplified Microsoft's already growing cloud business," he said. "Between FY17 and FY19, Microsoft added more than $29bn in revenue, and 39 per cent of that came from its productivity and process solutions."
Microsoft observed as much in its financial filing: "In the Productivity and Business Processes and Intelligent Cloud segments, cloud usage and demand increased as customers continued to work and learn from home." The company said its More Personal Computing segment, Windows OEM, Surface, and Gaming also benefited from people working, studying, and playing at home.
CFO Amy Hood in a statement said that Azure has surpassed $50bn in annual revenue, with annual growth at 12 per cent.
Nadella also said, "We are the only company with an integrated, modern technology stack – powered by cloud and AI and underpinned by security and compliance – to help every organization transform and reimagine how they meet customer needs."
Microsoft is the only such company if you don't count Amazon, Google, HPE, Oracle, and IBM, among others. But it does have meaningful points of differentiation.
On Microsoft's earnings call, Nadella repeated his statement about tech intensity verbatim, and went on to embark on a whirlwind tour of customer and product metric mentions, reiterated by comms chief Frank Shaw on Twitter.
To sum up the call, it's good to be selling digital interaction at a time when physical interaction is limited by health concerns. ®