Four Chinese academic researchers in the United States have been accused of failing to declare on their immigration paperwork their true involvement with China's People's Liberation Army.
"These members of China's People Liberation Army applied for research visas while hiding their true affiliation with the PLA," John Demers, Assistant Attorney General for National Security, said in a statement on Thursday.
"This is another part of the Chinese Communist Party's plan to take advantage of our open society and exploit academic institutions. We will continue to conduct this investigation together with the FBI."
The Feds charged the four with visa fraud. Three have been collared; the fourth fled to the Chinese consulate in San Francisco, California, before they could be nabbed.
The charges were brought after US Attorney General Bill Barr earlier this month slammed China's long-running efforts to harvest trade secrets and other know-how from academia and industry in America to fulfill Beijing's goal of dominating the world in science and technology.
If convicted, each person faces a maximum of ten years in jail and a fine of $250,000. Some of the academics denied having served in the PLA at all, and others said that they had stopped working for the Chinese military when, in fact, they were still employed.
Visa applicants are told to reveal any links with the PLA, and lying on immigration forms is a big no-no. The US government is wary of those connected to the Middle Kingdom's military because it is feared those foreigners may be instructed by Beijing to steal secrets or carry out surveillance for China.
Thank you for your service...ooops, no
Kakai Zhao, a PhD student at the Indiana University Bloomington, majoring in intelligent systems engineering, applied for an F-1 non-immigrant student visa in June 2018. In his visa application, he said he had never served in the Chinese military.
FBI investigators, however, said they found records he had received military training at China's Aviation University of Air Force, and also attended the National University of Defense Technology led by the Central Military Commission, an agency of the Chinese Communist Party that controls the PLA. He was arrested on July 18.
Similarly, Juan Tang, a cancer researcher working at the University of California, Davis, said she had no connections with the military when she applied for a J-1 academic visa last year. But officials discovered an official photograph of her sporting PLA army uniform, as well as evidence she was an officer of the Chinese military's Air Force. Tang was also employed at the Air Force Military Medical University, the US government said.
When quizzed by Uncle Sam's g-men, she denied any involvement with the PLA. After the bureau filed a formal complaint and arrest warrant that was unsealed on July 20, she took refuge at the Chinese consulate building in San Francisco. Officials believe she is still hiding there.
Chen Song, a visiting scholar at Stanford University also applied for a J-1 visa in 2018. Unlike Zhao and Tang, however, she stated she had, indeed, served in the military for less than a year in 2011. She said she was employed by a hospital in Beijing when she applied for her visa, but the US government claims she was actually working for the PLA's Air Force.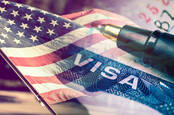 Trump U-turns on foreign student crackdown: F-1, M-1 visa holders allowed to study online mid-pandemic in the US
READ MORE
The FBI said it uncovered a deleted document from her computer hard drive addressed to the Chinese consulate in New York City that revealed her true employer. The letter stated she was planning to stay another year in the US after she received the green light from the PLA Air Force. She was cuffed on July 18.
Finally, America's border cops said they discovered Xin Wang, a medical researcher at the University of California, San Francisco (UCSF), had lied on his visa application when they quizzed him about his J-1 visa at Los Angeles International Airport.
Wang apparently revealed he was a "level nine" technician at a military research lab in China, which roughly corresponds to being a major in the army. In his immigration application, however, he said he had been an associate professor in medicine for the PLA from 2002 to 2016, it is claimed.
He also, it is alleged, let slip that his real goal of working at the UCSF was to duplicate the work he had done in the US in China, and to record the overall layout of the lab. He was cuffed on on June 7, and indicted on June 22.
"The United States welcomes students, academics, and researchers from across the globe. Today's announcement shows the extreme lengths to which the Chinese government has gone to infiltrate and exploit America's benevolence," said John Brown, Executive Assistant Director of the FBI's National Security Branch.
"In interviews with members of the Chinese People's Liberation Army in over 25 cities across the US, the FBI uncovered a concerted effort to hide their true affiliation to take advantage of the United States and the American people." ®