Butterfingers who don't bother with phone cases, rejoice: New Gorilla Glass 'Victus' tipped to survive 6ft drops
Corning says it'll first appear in an upcoming Samsung device
Aluminosilicate wrangler Corning has lifted the lid on its latest generation of its hardy Gorilla Glass.
Dubbed Victus, Corning claims the glass boasts twice the scratch resistance of its predecessor and can effortlessly survive a 2-metre (6ft) drop without shattering.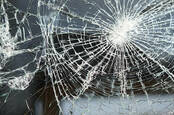 As Corning unveils its latest Gorilla Glass, we ask: What happened to sapphire mobe screens?
READ MORE
Recent iterations of Gorilla Glass have focused on shatter resistance, but protection against nicks and gashes from wayward keys has virtually stagnated.
Scratch resistance is measured with the Knoop hardness test, in which a diamond is scraped across an object with varying amounts of force. Tests from Corning show it takes 7-10 Newtons to scratch a pane of Victus glass, with eight producing a relatively shallow scratch.
Shatter resistance also gets a welcome boost, although arguably this isn't quite as important given the widespread popularity of phone cases. Still, Corning reckons it can survive an extra 1.5 foot (45cm) compared to the previous Gorilla Glass 6.
Samsung will be the first to debut the tech in an upcoming device. The firm is expected to announce a new Galaxy Note flagship in the coming weeks, along with a refreshed Galaxy Fold. Our money is on Gorilla Glass Victus making an appearance in the former non-folding, mass-market device. There are still no Sapphire displays, sadly... ®