This article is more than 1 year old
Intel's 7nm is busted, chips delayed, may have to use rival foundries to get GPUs out for US govt exascale super
CEO Bob Swan suggests his chips may some day be TSMC-flavored
Intel on Thursday reported second quarter sales of $19.7bn, up 20 per cent year-over-year, and still investors distanced themselves from its stock, which was down around 10 per cent in after-hours trading following the manufacturer's earnings report.
The US giant's results [PDF] exceeded what analysts had anticipated – and Chipzilla even raised its guidance about future results. But the selloff appears to have been triggered by the announcement of yet another production delay.
Intel's 7nm process node is six months behind schedule, and the yield is a year behind. That means PC processor chips using this node for CPU cores are delayed and won't hit the market until late 2022 or early 2023. A 7nm data-center processor is now expected to arrive the first half of 2023 rather than in 2022 as expected.
And its 7nm GPUs codenamed Ponte Vecchio are now due late 2021 or early 2022, which is a bit of a problem: Intel promised the accelerators for the US government's $500m exascale Aurora supercomputer, due to be built in 2021. As such, Intel may be forced to turn to outside foundries to produce certain dies, aka chiplets, for its 7nm multi-die-single-package chips, including its Ponte Vecchio parts.
"The company's 7nm-based CPU product timing is shifting approximately six months relative to prior expectations," Intel said in a statement [PDF]. "The primary driver is the yield of Intel's 7nm process, which based on recent data, is now trending approximately twelve months behind the company's internal target."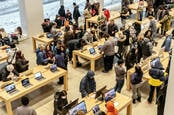 Apple to keep Intel at Arm's length: macOS shifts from x86 to homegrown common CPU arch, will run iOS apps
READ MORE
This comes after Intel's 10nm node ran into years-long delays as the one-time semiconductor king went down a dead end with its assembly lines. And we're still waiting for a substantial shift to 10nm from 14nm by Intel. Desktop 10nm processors aren't due to land until the second half of next year, though some mobile parts are available now, and server parts are said to arrive this year.
In effect, Intel screwed up 10nm, turned to 7nm to make up lost ground, and went off the rails again.
Meanwhile, competitors like Marvell, AMD, and Nvidia, are already booking capacity within TSMC to ship 5nm chips by the end of 2021. TSMC is ramping up its 5nm output, and is set to churn out Apple-designed processors for the iPhone 12 among other things. Intel previously claimed its now-stalled 7nm process node is as good as TSMC's 5nm.
On a conference call for investors on Thursday, CEO Bob Swan said Intel has identified a defect in its 7nm production process that caused degradation, and has taken steps to address it. He said there's no insurmountable obstacle to 7nm production though added the company has prepared contingency plans, and is ensuring that product competitiveness is not affected by Intel's technology road-map mishaps.
At the conclusion of the call, questions focused on the production delays. One financial analyst said that by the time Intel is planning to come out with 7nm, TSMC is planning to ship 3nm parts. The analyst asked at what point Intel might consider outsourcing fabrication to other foundries to keep up?
Swan said the plan is still to deliver strong performance on products that Intel manufactures, but admitted the x86 giant does have the aforementioned fallback plan of third-party foundries in mind. "To the extent that we need to use someone else's process technology, we will be prepared to do that," said Swan, who suggested during the call that this might be a possibility for portions of the Ponte Vecchio data center GPU.
Using "someone else's process technology" will be no easy feat, by the way. It will involve a lot of design adjustments and squeezing in its foundry orders around other customers, such as Apple, AMD, and Nvidia. Swan acknowledged as much, noting that if Intel has to outsource production, it may focus on 10nm rather than 7nm in order to keep Chipzilla's prices "attractive."
Onto the numbers
Highlights for the second quarter, ended June 27, are as follows:
Revenue: $19.7bn, up 19.4 per cent, year-on-year, and beat analysts' expectations by $1.15bn
Gross Margin: 53.3 per cent, down 6.6 percentage points
R&D and MG&A: $4.8bn, down five per cent
Tax rate: 14 per cent, up 2.4 percentage points
Net income: $5.1bn, up 22 per cent
Earnings per share: $1.19, up 29 per cent and 15 cents higher than expected by Wall Street
In Intel's two major business units, data-centric revenue grew 34 per cent year over year, accounting for 52 per cent of overall revenue, while PC-centric revenue grew just seven per cent. Division highlights include:
PC-centric Client Computing Group (CCG) revenues were $9.5bn, up 7 per cent
Data-centric

Data Center Group (DCG) revenues were $7.1bn, up 43 per cent
Internet of Things Group (IOTG) sales $670m, down 32 per cent
Mobileye car division revenues were $146m, down 27 per cent
Non-Volatile Memory Solutions Group (NSG) saw bumper revenues of $1.7bn, up 76 per cent
The Programmable Solutions Group (PSG) earned $501m, up 2 per cent
In an email to The Register, Patrick Moorhead, president and principal analyst of Moor Insights and Strategy, blamed Intel's plummeting share price to the 7mn delay.
"Intel had a stellar Q1 revenue-wise as it increased 20 per cent year-on-year, better than guidance. The company also increased its full revenue expectations to $75bn," he said. "The 7nm push isn't a positive announcement as many products were dependent on it. Knowing Intel, it always has backups for its backups and I am sure we will be hearing about enhancements to 10nm to increase its competitiveness.
"DCG showed significant strength with a baseball-blistering 43 per cent growth demonstrating continued growth from cloud and carriers. NSG had its biggest revenue increase ever at 76 per cent growth which represents how well the unit is doing and how industry pricing has stabilized if not increased."
Moorhead noted the PC group was up seven per cent, with strong notebook sales and average price increases offsetting declining desktop volume. "The notebook increase is expected as it was needed to meet anticipated demand from work/school/govern from home during the pandemic," he said. ®