UK weather watcher the Met Office is seeking early interest in a framework deal that could be worth up to £30m for IT services and software development supporting a new data platform and data science activities.
The publicly owned executive agency of the Department for Business, Energy and Industrial Strategy said in a tender notice that it was sizing up market interest in "potential future contracts which will include delivery partnership relationships of both a tactical and strategic nature."
The prior information notice continued: "The Met Office is therefore considering establishing a framework with a number of companies who can help with that transformation, both by bringing new skills and knowledge and by bolstering the capacity and capability of existing Met Office teams to deliver required outcomes. This should also include being able to supply additional resource to augment teams if and where further gaps are identified, ensuring up-skilling is provided if required."
The contracts are set to fall within five strategic plans for the Met Office. These are "developing and nurturing capability partnerships"; delivering a "common Met Office data platform"; the "future of operational meteorology"; "exploiting the future of data sciences"; and "taking a common approach to customer data services".
"The Met Office's new strategy requires a significant step change in technology systems, resources and ways of working. This is encapsulated in a number of 'Strategic Actions'. Several of these actions will be realised via programmes of work with both customer benefit and technology at their heart," the notice said.
In February, the Met Office secured a £1.2bn investment for a new supercomputer to improve severe weather and climate forecasting. The spending is designed to help produce more sophisticated rainfall predictions, provide better forecasting at airports so they can plan for potential disruption, support rapid response to flooding and offer more detailed information for the energy sector to help them mitigate against potential energy blackouts and surges.
In the the Met Office's annual report [PDF], published earlier this week, chief scientist Professor Stephen Belcher said: "In February, we secured investment to develop the case for our next supercomputer, which will offer an unprecedented opportunity to advance our weather and climate services.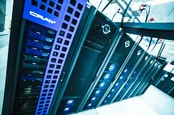 UK, you Cray. Boffins flex ARM in 'first-of-its-kind' bonkers HPC rig
READ MORE
"As well as improving the accuracy of our weather forecasting, we'll put the increased computing capacity to good use to develop new climate services. In addition to pushing the limits of what is possible in simulating weather and climate, we will use the data to underpin actionable advice for robust decision making."
The agency provides global weather and climate data and services to clients in industry, academia and broadcast media. It also supplies third-party licensed data on behalf of the European Centre for Medium-Range Weather Forecasts, ECOMET, an EU weather data catalogue, and the European Organisation for the Exploitation of Meteorological Satellites in the UK.
The agency's annual report said: "An early output from our customer data services strategy action was to make our wholesale data catalogue available via the service hub. This has meant more of our data is more easily accessible to a larger number of users – so they can do more in precisely the way they want to."
The prior information notice says the Met Office is looking for responses from suppliers by 17 August. A contract notice is expected in November. ®