Hot on the heels of what the US alleged was an in-orbit "satellite killer" trial, Russia demonstrated it can still worry space station inhabitants with an eventful docking of its uncrewed Progress freighter.
Those watching the video stream of the cargo ship docking with the International Space Station (ISS) were treated to the sight of the spacecraft seeming to go off course as it approached the outpost. With metres to go, Progress MS-15 looked somewhat misaligned with the docking port on the Pirs module. Those onboard the orbiting lab suggested that maybe it might be time to take over manual control.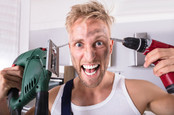 Russia: The hole in the ISS Soyuz lifeboat – was it the crew wot dunnit?
READ MORE
The spacecraft appeared to correct the alignment and the automated docking proceeded as planned. For watchers of the video stream, it all seemed a tad off-nominal.
NASA made no mention of the wobble as it welcomed the arrival of the Progress and its cargo of almost three tons of food, fuel and supplies to the ISS. The docking took place at 17:45 UTC on 23 July just over three hours after a successful launch from the Baikonur Cosmodrome in Kazakhstan.
Unlike JAXA's HTV or SpaceX's first-generation Dragon cargo spacecraft, which require grappling by the ISS's robot arm, the Progress freighter is equipped with a Kurs-NA automated docking system. The original Kurs system saw use back in the days of Mir and a test involving the Russian TORU backup system resulted in a Progress freighter colliding with the Russian space station.
TORU, a manual docking system, has been used successfully in many other docking attempts since, including several with the ISS. Cosmonauts tend to fall back to it when the Kurs system has problems. In this instance, doubtless with an eye on the looming Progress, cosmonaut Anatoly Ivanishin suggested that perhaps now would be a good moment to take over, but was instructed by controllers to allow the automated docking to proceed.
Progress MS-15 (or 76) will remain at the ISS until December before being disposed of in the Earth's atmosphere. ®