This article is more than 1 year old
Raytheon techie who took home radar secrets gets 18 months in the clink in surprise time fraud probe twist
Be careful about bunking off when you're billing your hours to a government
A now-former Raytheon systems engineer will spend the next year and a half behind bars for taking home classified US government blueprints and paperwork, against security procedures, all because he seemingly liked taking Fridays off.
Ahmedelhadi Yassin Serageldin, 67, was sentenced [PDF] in a Massachusetts federal district court earlier this week. Back in January, he pleaded guilty to one count of willfully retaining national defense information.
His indictment [PDF] states he lived in Sharon, Massachusetts, had worked at Raytheon for nearly 20 years, and would take home work on various US government projects in items as secure as a plastic bag. Holding a secret-level security clearance for a top military contractor, his work would often involve sensitive programs including missile defense systems and military radar components.
"Some of the technology was cutting edge," prosecutors said, "as it involved radar systems that were in the process of being implemented while the defendant was committing his crimes; some of those systems have not been fully implemented yet."
Uncle Sam said Serageldin copied as many as 31,000 pages of classified documents and took them home using a portable Western Digital hard drive, hardware he denied owning. Some of it even ended up on the laptop of his lover.
"Defendant Serageldin kept the documents in or on his car's glove box, his living room, his master bedroom closet, a spare bedroom, the dining room table, a sitting area, a utility room, and even his person," prosecutors noted. "Approximately ten unclassified documents were found on a laptop belonging to his mistress."
Interestingly, the case did not begin with a focus on Serageldin's retention of confidential information, but rather on time card fraud.
Don't mess with HR
Back in 2017, Raytheon suspected Serageldin had been taking off every Friday from January through March of that year yet recorded those days as time worked. Lying about hours worked would be bad enough at a private company, but when you're doing projects on the government's dime, it becomes a case of overcharging Uncle Sam.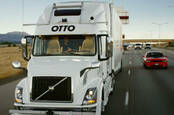 Former Googler Anthony Levandowski 'fesses up to pinching trade secrets about self-driving cars
READ MORE
It only got worse from there for Serageldin, as during a probe into the suspected time fraud, Raytheon investigators discovered from network history logs he had downloaded documents to an external drive against company policy. The engineer then tried to withhold or remove data from his personal laptop and two external drives after he was told to hand them over for inspection. He was fired in May 2017.
The matter was referred to the government, and he was indicted in late 2018 for obstruction of justice. When he was picked up by the Feds, Serageldin was at a public library looking up information on how to wipe data from a computer.
At that point the focus of the case turned to the sensitive documents on his personal PC and two drives, and when the extent of the document hoard became clear, Serageldin decided to plead guilty to a fresh charge of retaining defense secrets.
The 18-month sentence, plus one year of probation and a $10,000 fine, is actually something of a win for Serageldin. Citing his efforts to thwart the investigation, prosecutors had earlier asked for a 60-month prison term. Serageldin's lawyers had sought three years' probation.
"While Mr Serageldin's actions were wrong and foolish, he did not betray his country or sabotage his important work for Raytheon," Serageldin's team told the court. "Instead, Mr Serageldin remains loyal to both. But those facts do not excuse what he did, and he fully recognizes and appreciates the seriousness and the wrongfulness of this conduct." ®