Garmin staggers back to its feet: Aviation systems seem to be lagging, though. Here's why
Somebody light that pilot light
Updated Garmin services appear to be in the process of being restored after the company was reportedly hit with ransomware, though its aviation services remain offline at the time of writing.
The company, which makes various navigational and location-tracking services and products, abruptly fell over last week, and continued to stay offline for a prolonged period. The company has so far not confirmed ransomware publicly, referring to it as an "outage" that just so happened to also affect its phones, emails, online chats and all services.
BleepingComputer reported on Sunday that a company employee confirmed the precise strain of infection, adding that files on corporate systems were encrypted with a new, seemingly custom extension: .garminwasted. It also quoted a source as saying a ransom had been demanded to the tune of $10m.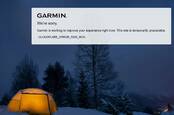 Fitness freaks flummoxed as massive global Garmin outage leaves them high and dry for hours
READ MORE
The extension suggests a targeted attack against Garmin. At the time of writing there was no information as to how the company was compromised, while spokespeople would only refer to prepared statements first issued on Friday.
Speculation immediately began as to whether Garmin would copy the example of cloud CRM firm Blackbaud and pay the alleged ransom, though responsible businesses generally do not do this. Addressing that speculation, Brett Callow of ransomware decryption biz Emsisoft told The Register: "WastedLocker puts companies in a potentially problematic situation, though, because it's attributed to Evil Corp."
He pointed us to the fact that the US government has imposed formal sanctions on Evil Corp, a well-known Russia-based criminal gang previously best known for their Dridex banking malware. Thus paying off the crew could cross a line with Uncle Sam.
Don Smith of Secureworks commented that "post-intrusion ransomware" is a "highly profitable and effective way to extort money from large enterprises", saying: "Given a network intrusion the 'return on investment' of post-intrusion ransomware makes it a compelling route to monetisation for cyber criminals."
Matt Lawrence of infosec biz F-Secure concurred, adding: "Although every incident is unique, based upon our research and investigations, human-operated ransomware campaigns often use unsophisticated attack vectors that typically trigger multiple avenues for detection."
Pilot light
Although Garmin Connect and other consumer-facing apps were gradually coming back to life, according to the company's status page, at the time of writing The Register was only able to access some of its aviation services. The latest update from Garmin for its pilot-focused apps said "Weather and Routing [services] are unavailable" while FlyGarmin, its main web portal for pilots, remained offline. Garmin pilot data services were said to still be suffering a "partial outage".
Garmin manufactures physical GPS-based navigation hardware and offers data updates to keep it current; in the UK it is an offence to go flying in your light aircraft if you are relying solely on out-of-date digital charts.
The lag in Garmin's aviation services coming back online may be evidence of a targeted recovery strategy rather than anything else, however. Aviation data is rigidly updated at set intervals according to a calendar determined years in advance by the International Civil Aviation Organisation (ICAO). The latest Aeronautical Information Regulation And Control (AIRAC) "cycle", as the aviation world calls these updates, happened to be published just under a week before the ransomware struck Garmin. Updates for AIRAC cycles are published 34 days (it was 28 days until late last year) in advance to allow the world's aircraft operators a known period for installing updates before they go live.
The next AIRAC due date, for cycle 2011, is 7 August. Garmin therefore has a good few days of breathing space before its aviation services need to be back online ready for distribution of the next cycle. ®
Updated to add at 1700 GMT
Garmin just now confirmed it suffered "a cyber attack" on July 23 that "encrypted some of our systems," which to us sounds like a ransomware infection. As a result of this intrusion, "many of our online services were interrupted including website functions, customer support, customer facing applications, and company communications," the gadget maker noted.
"We have no indication that any customer data, including payment information from Garmin Pay, was accessed, lost or stolen. Additionally, the functionality of Garmin products was not affected, other than the ability to access online services," it said in a statement.
"Affected systems are being restored and we expect to return to normal operation over the next few days. We do not expect any material impact to our operations or financial results because of this outage. As our affected systems are restored, we expect some delays as the backlog of information is being processed."
Sky News in the UK, meanwhile, claimed Garmin obtained, though did not directly pay for, a decryption key to restore its files, which were scrambled by the WastedLocker ransomware.