Eye see you're having surgery: Origami inspires tiny, super-accurate robot surgeon
Research showed 'reduced deviation' when it made a 0.5mm x 0.5mm slice
Researchers have built a 2.4g robot that could be capable of eye surgery, inspired by the ancient paper-folding art of origami.
A paper published in Nature Machine Intelligence describes how the machine was able to trace a square of 0.5mm by 0.5mm and reduced the deviation from the desired trajectory by 68 per cent compared to manual operation.
Robot-assisted surgery can prove more stable and accurate than manual surgery, while at the same time robots do not tire like human surgeons and are better at scaling down procedures.
As far back as 2000, Intuitive Surgical produced a robot for complex operations typical of minimally invasive surgery.
"Microsurgery, including eye surgery and neurosurgery, requires precise and complex motions, so the development of practical systems for assisting microsurgery is a growing research field," according to the paper from Sony robotics engineer Hiroyuki Suzuki and Harvard University professor of engineering and applied science Robert Wood.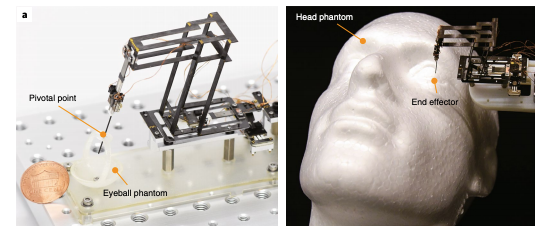 A 2.4g RCM manipulator (left), which can be mounted near the patient's head (right). © Image by Hiroyuki Suzuki  and Robert J Wood, Nature Machine Intelligence
"The advantages of teleoperated robots – including high accuracy, tremor filtering and geometric scaling – enables complicated operations in neurosurgery and plastic surgery," it said.
Suzuki, Wood and their team have developed a "pop-up-book"-style micro-electro-mechanical systems method to build a robot which can accurately move in three dimensions around a single fixed point. It moves using tiny arms controlled via the piezoelectric effect that are built from carbon fibre composite frames compatible with magnetic resonance imaging.
"The resulting structures consist of high-performance materials such as carbon fibre and backlash-free flexure joints. This approach enables precise manipulation, high-speed actuation and lightweight structures and mechanisms," the authors of "Origami-inspired miniature manipulator for teleoperated microsurgery" said.
The new micro-design has mass 2.4g and is 50mm × 70mm × 50mm in size.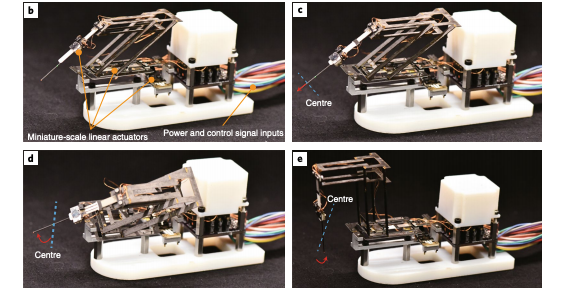 Top left: An overview of the mini-RCM driven by three mini-LAs. c) The translation axis of the mini-RCM has a motion range of 10 mm. d and e) Two rotational joints of the mini-RCM, which are transmitted by slider-crank mechanisms. © Image by Hiroyuki Suzuki and Robert J Wood , Nature Machine Intelligence
The researchers said they demonstrated its ability to perform precise teleoperated micromanipulation. As well as tracing the tiny square, the machine performed a micro-cannula, inserting a tube into a 0.2mm-thick mock-up retinal vein under a microscope. "Retinal vein cannulation is one example of a challenging medical application due to the extreme precision requirements," the researchers said.
Meanwhile, the compact, simple structure makes it relatively easy to manufacture, they said. Although the results show the robot is more accurate than manual surgery, other research groups have developed more precise robots. ®