US IT staffing biz accused of abusing student visa program now forced to stop advertising only to immigrants
DoJ unhappy with ASTA CRS but not as much as former employees
An American IT staffing'n'consultancy company has been banned from running job ads that say only temporary work visa holders need apply.
In a settlement [PDF] with the US Department of Justice today, ASTA CRS agreed it will make all job postings available to anyone in America, including citizens. The dept pointed out that the job postings were discriminatory because they "specify a preference for non-US citizens who held temporary work visas."
In a political atmosphere filled with anti-immigrant rhetoric and action from the Trump administration, including several efforts to halt various work visa programs altogether, it's unusual to find a pro-immigrant job posting.
But the fact remains it is illegal to discriminate against any single group when advertising a job. "When a company advertises a job by stating a preference for temporary visa workers, it deters qualified and available US workers from applying and denies those US workers equal opportunity to compete for that employment," said assistant attorney general Eric Dreiband of the Justice Department's civil rights division. "This is especially important at a time when more US workers may be seeking employment as a result of the economic impact of COVID-19."
There may have been a darker purpose behind the job postings, however. The adverts were for entry-level positions, and specifically noted that the ASTA CRS was looking for people with the F-1 student work visa. The company, based in Virginia, has about 85 employees, and annual revenues of $6.5m from IT staffing and consultancy.
Several people who apparently worked for the company, and claim to have been visa holders, are damning in their criticism of the business on independent review site Glassdoor.
Trouble
One anonymous former employee said in July last year he had worked for ASTA CRS for more than a year, and claimed: "If you are a student on OPT be aware they will leave you in trouble."
OPT is Optional Practical Training, and it is temporary employment that a student visa holder can carry out if it is directly related to their studies. They can complete up to a year of work either before or after completing their studies, and many students take advantage of it for two main reasons: it brings in much-needed money to cover the costs of education; and it gives them real-world experience in their field which boosts their resume and makes them more employable when their studies are over.
However, the same system is occasionally abused by unscrupulous employers who use the leverage they have over the students to make them work long hours for low pay. Several former ASTA CRS employees make that claim.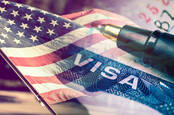 Trump U-turns on foreign student crackdown: F-1, M-1 visa holders allowed to study online mid-pandemic in the US
READ MORE
From the review mentioned above: "They will not provide you your salary even if you get fired working for 29 days of a month. You will lose your time with classes that does not even make sense. They teach you nothing. They do not provide you support even for a week or two if you are in a job. They will keep torturing you."
Another from 2017 claimed ASTA CRS was charging for poor on-the-job training. "Pros: Excellent marketing about their own training and placement program. Cons: Total failure in implementing it. Rip off for the training fee."
But the most extraordinary claims come in a posting from May 2016, when another former employee is detailed and damning. "Company run by Hyderabad people," they note (Hyderabad is the tech center of India). "This is a H-1B fraud visa business. They recruit candidates who are in desperate need of jobs, for example, H-1B transfer candidates or foreign students. They train them for month or two in business analysis or QA and then they start to market them. They prepare false resumes with 8-10 years of fake experience [with] companies like Bank of America, Capital One, Goldman Sachs etc ... Once they are able to get a job, the candidate is paid between 25 and 28 per hour," with the agencies involved pocketing the rest.
Prompted by Glassdoor's review template to provide "advice to management," the reviewer wrote, in all caps: "YOU ALL WILL BE CAUGHT ONE DAY."
Under the settlement signed with the Justice Department, ASTA CRS president Prabhakar Thangarajah agreed his business will remove any job ads that "refer to a specific citizenship, immigration, or employment-based visa status," and not post any in future.
It also agreed to review its recruiting and hiring policies, and revise them appropriately to make sure all job postings in future are scrutinized – and send a copy of all such postings to the US government's Immigrant and Employee Rights Section (IER). It also agreed to retrain its hiring staff.
It's not clear if the agreement applies only to ASTA CRS Inc or whether it also covers the other companies that Thangarajah lists as being CEO or president of on his LinkedIn page. They include: Tresume, which he founded in August 2018; PTSOL, based in California; Silver Line Staffing, also in California; and Asta Investment LLC in Virginia.
We asked ASTA CRS for comment on the settlement. We have also supplied the outfit with the quotes above from former employees and asked for a response. We will update this story if it gets back to us.
System abuse
Although the H-1B and F-1 visa programs are highly valued by US corporations, particularly the tech industry, there have been occasions where organizations have been caught abusing the process.
Most dramatically, last year the head of one IT staffing company, Pradyumna Kumar Samal, was jailed for seven years for what prosecutors called "the largest and most sophisticated H-1B scheme ever prosecuted."
Samal pleaded guilty to defrauding the US government by lying on visa applications and failing to pay over $1m in employment taxes. His scheme involved hundreds of foreign nationals, the majority from India, that he charged $5,000 to get into the United States on H-1B technology worker visas – a fee that his companies Divensi and Azimetry are legally obliged to pay under the visa system.
Samal falsely claimed that each applicant was lined up to carry out specific IT projects but there weren't any, and workers were simply added to a pool of labor that Samal then farmed out under short-term contracts to a range of clients. The workers went unpaid if they weren't hired and Samal forced them to submit phony sick and annual leave requests so he wasn't obliged to pay them a salary. He also took 401k retirement contributions from his workers and banked them in his own accounts. ®