This article is more than 1 year old
Brave takes step closer to sensible business model by building subscription VPN into the iOS version of its browser
Relying on ads in software designed to block ads is an uphill struggle
Privacy-centric startup Brave has included a subscription VPN service in its iOS browser.
Those willing to fork over $9.99 a month, or $99.99 for a whole year, get access to a VPN from security outfit Guardian.
In addition to providing an encrypted tunnel for those times you're on a public Wi-Fi hotspot, the service also includes a firewall tool that can identify and block app-based trackers phoning home.
Brave claimed the service is designed to avoid user identification and data retention, with punters connecting with randomised pseudonymous identifiers.
Brave is a browser from Mozilla founder Brendan Eich. By default, it includes advertising and tracker blockers. Users can also opt to see adverts in exchange for a cryptocurrency called BAT (Basic Attention Token), which they can use to directly reward creators, or otherwise cash out.
The desktop version of Brave comes with support for Tor. The iOS version, on the other hand, doesn't. This VPN therefore fills a gap – insofar as it lets people browse without being subject to local filtering (although we don't advise doing anything particularly "sensitive" on either Tor or a public VPN).
Brave isn't the only browser to ship with a VPN. Opera has included a built-in VPN for some time now, thanks to its 2015 acquisition of SurfEasy. There's also Mozilla's Firefox, which added VPN functionality earlier this month through a partnership with Wireguard.
There's a reason for this. It's hard to monetise a free browser. Mozilla, for example, has historically relied upon royalties from search engines to keep the lights on. At the end of 2018, these accounted for roughly 91 per cent of its revenues. The remaining sliver consisted of donations and advertising. This is despite attempts to diversify its income.
Meanwhile, Brave has taken a different tack. Since it feeds advertising directly to users, it has opted to create an advertising network, making deals with brands like Amazon and Fiverr. Users keep 70 per cent of revenues, while Brave pockets the remaining 30 per cent. It has also received a generous pile of venture capital dough over the years - about $42m according to Crunchbase.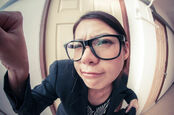 Mozilla unveils $4.99/month subscription-based VPN, says it won't hang onto user logs
READ MORE
While sales of VPN subscriptions are unlikely to be sufficient to sustain the development of both Brave and Mozilla, it will help these firms diversify their revenue streams. It also opens the door to other subscription-based ancillaries further down the line.
But it won't be a "Hail Mary". The VPN sphere is insanely crowded. There's also a propensity for VPN providers to sell discounted multi-year subscriptions, which means that many people are locked into a specific provider. That drastically reduces the pool of potential users.
Regardless, added accoutrements like VPNs helps differentiate browsers from incumbent browsing powerhouses, like Google Chrome. This is something that Opera has historically done really well – with older versions including BitTorrent clients, RSS readers, and email tools. Meanwhile, the current version packs things like instant messaging and cryptocurrency tools. ®