The global pandemic just claimed another in-person tech conference – the 2021 edition of CES will be an "all-digital experience".
What does that mean? Exhibitors and attendees can forgo the moral tundra of the Las Vegas Strip, as well as the customary welcome cavity inspection from US immigration, and instead observe the event's dreary keynotes and product launches from the comfort of their own homes.
Event organiser the Consumer Technology Association also promises the ability to hobnob with fellow industry players – although it's not clear if this will run on an existing videoconferencing platform like Zoom, or whether the CES will use its own tech.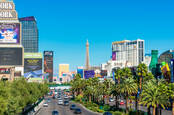 Leaving Las Vegas... for good? IT industry conference circuit won't look the same on other side of COVID-19 pandemic
READ MORE
With more than 50 years of history, CES is one of the most storied tech trade shows. It has served as the launching pad for the VCR, the Commodore 64, and the 3DO (they can't all be hits). In recent years, the event's remit has expanded to encompass other categories, such as automotive and (reluctantly) sex aids.
In short, what MWC is for mobile, CES is for everything else.
This is a fairly savvy move by CES. By acting early, it avoids having to deal with the chaos of a last-minute cancellation, as was the case with MWC, which was forced to ditch its 2020 edition after vendors gradually pulled out.
Had MWC gone ahead, it would have resembled something akin to the funeral of a disgraced 1970s BBC presenter. And that would have been a bad look indeed.
Crucially, the Consumer Technology Association won't have the headache of trying to plan an event in an ever-changing environment, particularly when governments are implementing travel bans on both national and local levels.
On a logistical level, the event organisers won't have to restrict numbers to enforce social distancing, or figure out how to spread the conference out to more venues in order to limit the number of people in an exhibition room. ®