How Bude: Google's sole-financed private undersea pipe to make a landing in Cornwall
Cable named for compsci legend Grace Hopper to link US, UK, Spain
---
Cloud and ads behemoth Google is building a subsea internet cable linking the US to the UK and Spain.
The cable, which it named for compsci pioneer and mother of COBOL Grace Hopper, aims to provide better internet reliability and recovery from outages, the $1trn Alphabet giant said.
Google has already made investments in other private subsea cables: Curie, linking the US to Panama and Chile; Dunant between the US and France, and Equiano, linking Portugal, Nigeria and South Africa.
"Private subsea cables allow us to plan effectively for the future capacity needs of our customers and users around the world and add a layer of security beyond what's available over the public internet," the company said.
The new Grace Hopper cable will allow better integration between the Google Cloud region in Madrid into Google's global infrastructure. The company also said it would help increase capacity across the Atlantic and support Google services such as Meet, Gmail and Google Cloud.
Set to be complete in 2022, the cable will, we're told, "incorporate novel optical fibre switching" to improve "reliability in global communications, enabling us to better move traffic around outages." With the help of subsea cable specialist SubCom, Grace Hopper would be world's first submarine cable to use the technology, Google said.
Jayne Stowell, who oversees construction of Google's undersea cable projects, told the BBC that some of the transatlantic cables are "going out of service and we need newer, better and more sophisticated technology".
Although largely a result of increasing demand for internet services, the growing private investment in subsea cables is also down to the need for security, both in the wake of the Snowden revelations and in another sense, for the tech giant itself. As TeleGeography, which maps the world's submarine cable has pointed out, content providers' "huge demand volumes have pushed [them] towards owning infrastructure."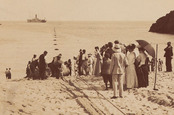 Life's a beach – then you're the comms nexus of the British Empire and Marconi-baiting hax0rs
READ MORE
The 2019 Mozilla Internet Health Report notes, though: "It's a new development for online platforms to also be the owners (or co-owners) of the delivery infrastructure. At a time when there is already significant concern about the consolidation of power by the biggest technology companies in multiple realms, and telcos are merging with traditional media companies, it raises questions about who (literally) controls the internet, and how we wish to see it develop in the future."
The US terminus of Google's new cable is set to be in New York, while the Spanish end will be in the north-coast city of Bilbao.
The UK end of Grace Hopper is set to make landfall in Bude, northeast Cornwall. Towards the other end of England's westernmost county lies Porthcurno, where the Falmouth, Gibraltar & Malta Telegraph Company landed the first Great Britain-India submarine cable in 1870. ®