Google extends homeworking until this time next year – as Microsoft finds WFH is terrific... for Microsoft
You see, there is a COVID-19 silver lining. For employers. For the rest of us, welcome to the machine
Google has gone all-in on its work-from-home policy, telling techies they don't need to return to the office until July 2021 at the earliest.
The decision came in an email to employees from CEO Sundar Pichai. "To give employees the ability to plan ahead, we'll be extending our global voluntary work-from-home option through June 30, 2021 for roles that don't need to be in the office," he wrote. "I hope this will offer the flexibility you need to balance work with taking care of yourselves and your loved ones over the next 12 months."
Previously, the web giant had said it would allow remote working until the end of this year. This latest announcement suggests either Google bosses are OK with staff working remotely, or that staff aren't OK with returning to the office, or both. Productivity could be up, could be down, it doesn't matter: the inability of various nations, cough, cough, America, to contain and stamp out the COVID-19 coronavirus pandemic has seemingly prompted Google to keep its well-paid staff apart for longer.
Interestingly enough, Blind, a discussion-board app used by verified tech and finance pros, said a survey of 10,000 of its users revealed 66 per cent of them felt remote working was damaging their mental health. For one thing, some people fall into working long hours, and can't switch off or escape work. In a separate Blind poll, a third of techies said they "feel obligated to reply to work emails, regardless of time of the day," and one quarter "contact their boss often ... so they appear to be working hard remotely."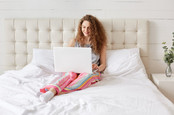 Home working is here to stay, says Lenovo boss, and will grow the total addressable PC market by up to 30%
READ MORE
In a thread regarding the Google work-from-home extension, one Googler said bluntly: "I'm gonna fucking lose my mind." Another chimed in with: "Same here," and another: "I'm going to go insane."
Obviously, these are just anecdotes, and it doesn't necessarily mean the Googlers would rather brave catching the virus than work from home a moment longer. We've heard of staff wanting to get back to the office just to be able to catch people in the corridor or over lunch to pick their brains, yet are aware of the dangers of working in an office right now and not sufficiently socially distancing.
Crucially, there are benefits to working from home. And we're not just referring to the lack of a commute, the lack of distracting colleagues, home comforts, and the freedom to move some distance away from the office. We're talking about the benefits for employers.
Take, for example, this report produced by Microsoft and published last week in the Harvard Business Review. It detailed a study of more than 350 Microsoft newly remote employees. The headline finding was that worker-bees were working harder and longer when at home than when they came in the office: on average an extra four hours a week.
Those employees were also scheduling more, shorter meetings when working from home, something that almost certainly has a positive knock-on impact on general business efficiency than hour-long gabfests. "We had 22 per cent more meetings of 30 minutes or less and 11 per cent fewer meetings of more than one hour," the report noted.
My life is efficient
In other words, Microsoft was able to get more work-per-body. Even more excitingly, the managers didn't have to force this extra efficiency out of their staff; they did it themselves: "Our flip to shorter meetings had come about organically, not from any management mandate," the report states.
More good news: employees were abandoning their habit of going out for lunch and no longer sticking to the old-fashioned idea of finishing work at 5pm and having a life: "A new 'night shift' has taken root, which employees are using the evening to catch up on work."
"The share of instant messages sent between 6pm and midnight has increased by 52 per cent," the report noted. The lunchtime drop of activity was indicated by a fall in just 10 per cent of instant messages during the lunch hour, compared to 25 per cent previously.
And even those stubborn fools who used to insist the weekends were their private time to spend with friends and family have come around to the realization that nothing is more important in life than serving those that pay your wages: "Employees who had well-protected weekends suddenly have blurrier work-life boundaries," the report noted gleefully. "The 10 per cent of employees who previously had the least weekend collaboration - less than 10 minutes - saw that amount triple within a month."
Network effect
Are there any downsides to employees working harder and smarter while being paid the same? Not for the employer there isn't, especially if you measure their social and mental well-being by tracking computer usage rather than actually talking to them about their feelings or emotions.
"We also measured networks across more than 90,000 Microsoft employees in the United States," the researchers noted. "Frankly, we expected to see them shrink significantly, given the rapid shifts in environment, daytime rhythms, and personal responsibilities.
"Instead, we discovered that most employees maintained their existing connections. Even more encouraging, most people's network size increased. We had assumed that in a time of crisis, employees might strengthen networks within their own work groups in an insular way. In fact, we saw network growth not only within existing work groups but also across different groups, indicating that to adapt and thrive teams sought to build bridges."
If anyone was going to work out a way to not just function under lockdown, but squeeze every last drop out of employees, it would be the tech industry. ®