Two Canadian lovers and their housemate have been charged with fraud after allegedly netting $8m by selling a made-up cryptocurrency called PlexCoin to victims.
Dominic Lacroix, 38, and Sabrina Paradis-Royer, 26, are already on the hook for $7m following an investigation by America's financial watchdog, the SEC, into PlexCoin. Now the pair, and former housemate Yan Ouellet, 36, are also at the business end of a criminal case brought by US federal prosecutors in Ohio.
The complaint [PDF] filed last week follows a lengthy investigation that tracked not just the Quebec trio's alleged launch of a fictitious cryptocurrency, but also how the millions they raised from investors was shifted to personal accounts in Canada, Singapore, and a sleepy town in Surrey, UK, and used to pay for "home renovation projects and daily living expenses." We note that though the trio purportedly raised $15m from selling PlexCoins to marks, as far as prosecutors in Ohio are concerned, investors were fooled into buying "approximately $8,000,000" of the digital dosh.
The most damning accusation is that the three were well aware they were scamming people, judging from messages they sent to one another over Skype and SMS, many of which are published in the indictment.
"There are lots of people posting job offers for PlexCoin lol. That's good, that muddies the water," Lacroix messaged to Ouellet in July 2017 in the middle of their initial coin offering (ICO).
The message was sent two days after it all started crashing down on them: the Quebec financial authorities, Autorité des Marchés Financiers (AMF), put out an advisory warning people off the ICO, and banned Lacroix and Paradis-Royer's PlexCorps company from advertising PlexCoin or approaching investors in Canada. Meanwhile, the media dug into Lacroix's previous history of accused securities fraud. Notable, the PlexCoin advertising ban applied to Canada, and the news coverage was in French, so Lacroix focused on the United States, with some success.
Nothing serious
In response to that media coverage, Lacroix messaged Ouellet saying that it was "nothing serious. I even think it's flattering." In response to the AMF ban, PlexCorps put out a press release saying it was headquartered in Singapore and so was not subject to Canadian laws.
In fact, PlexCorps claimed to have "a team of 53 people, men and women from all over the world" with offices "currently based in the heart of Singapore." It also claimed to have a wide range of experts working for it including "former managers of the finance field; prosperous company founders; specialists in private funds management; lawyers, notaries, accountants, and renowned tax experts; a business development manager; a risk management supervisor; a regulations manager; and a marketing manager."
But it was all nonsense, we're told, and when pressed for the names of all these employees and experts, Lacroix claimed the company was keeping them anonymous to maintain security.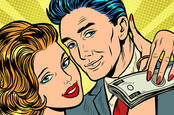 Cryptocurrency lovers slip US watchdog $7m to make claims of ripping off investors, other rule breaking simply vanish
READ MORE
As Skype messages in the indictment reveal, the walls started closing in, and the suspects felt the heat. Lacroix was at the gym when he realized the websites for both PlexCoin and PlexCorps had stopped working. He checked other sites on the web – they were all working fine.
"Do you have a picture of what it's saying??" Ouellet asked Lacroix, referring to any browser errors preventing access. "Yes, I'm going back." "Maybe it's blocked??? Maybe it doesn't support Cloudflare. That's really weird."
Clearly spooked, Ouellet messaged back three hours later: "I've encrypted everything at our place. I checked it afterwards to wipe all my servers too. I removed every trace." And then with some significant degree of irony: "We have to stop using Skype. If not, there's no use in doing all that."
"You're thinking the FBI and GRC?" Lacroix responded, suggesting the Feds and Canadian Mounties had pulled the plug on the trio's online operation. He got back: "Well, if it catches on. If a lot of people get upset."
Money stuck
The next day, the company's bank refused to accept, or move, any of its money, and they started discussing how to move investor money through other systems including PayPal. Ouellet told Lacroix: "The Citibank: International Personal Bank Singapore Account is available to applicants who are 21 years old and above, with a minimum funding of US$200,000." Lacroix wasn't sure: "The problem is that if l send 200K from my personal account, the AMF will see it."
Ouellet: "I know." Lacroix: "And they'll connect the two accounts right away. So that's out of the question. So all that's left is PayPal."
Investigators also gained access to the text messages of Lacroix's girlfriend Sabrina Paradis-Royer, so when the cops turned up at their house six days later, they could see the reaction. "Yo man!" she texted him. "I think the police are here."
"I'm not answering. This isn't funny anymore. The [PlexCoin ICO] whitepaper is on the table. I don't want to answer."
In short, federal investigators in Ohio convened a grand jury, and put together a significant amount of evidence, including numerous examples of financial transactions carried out by the trio that were tracked back to PlexCoin. The largest single transaction was for $409,909.71, which Lacroix is said to have moved from one account in his name to another account at the same bank also in his name.
After they ran through it all, the grand jury decided that all three "did knowingly and intentionally combine, conspire, confederate, and agree with each other, and with others both known and unknown to the grand jury, to commit federal criminal offenses." Those offenses being: conspiracy to commit securities fraud and wire fraud, wire fraud, and conspiracy to commit money laundering.
The indictment concluded: "As a result of the foregoing offenses, Defendants Dominic Lacroix, Yan Ouellet, and Sabrina Paradis-Royer, shall forfeit to the United States all property, real and personal, which constitutes or is derived from proceeds they obtained directly or indirectly as a result of such violations; all property, real and personal, which constitutes or is derived from gross proceeds traceable to the commission of such offenses; and all property, real and personal involved in the commission of such offenses."
The case will be heard in the northern district of Ohio. "An indictment is only a charge and is not evidence of guilt," the prosecution noted. "A defendant is entitled to a fair trial in which it will be the government's burden to prove guilt beyond a reasonable doubt." ®