Ahead of a Dragon capsule bringing home a pair of astronauts from the International Space Station this weekend, NASA shared more details of followup crewed missions to and from the orbiting science lab using the SpaceX pod.
In May, Robert Behnken and Douglas Hurley were the first American astronauts to ride an American-made rocket from US soil into space in nearly a decade. Their journey to the orbiting station essentially tested the ability of SpaceX's Dragon capsule to ferry humans into orbit using a reusable SpaceX Falcon 9 rocket.
If the duo, due to leave the station on Saturday and arrive on Earth the next day, return successfully in one piece, NASA will press on with two more crewed launches using Elon Musk's SpaceX hardware.
The first of those two missions, dubbed the Crew-1 flight, will take four 'nauts to the ISS. Three are from NASA – Commander Michael Hopkins, pilot Victor Glover, and mission specialist Shannon Walker – and the other, mission specialist Soichi Noguchi, from Japan's JAXA space agency. The team is expected to launch from NASA's Kennedy Space Center in Florida some time in September.
A limited number of spectators will be invited to watch the liftoff in person to prevent large crowds forming during the ongoing COVID-19 corona virus pandemic.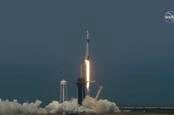 They've only gone and bloody done it! NASA, SpaceX send two fellas off to the International Space Station
READ MORE
The second flight, dubbed Crew-2, could be a much more lively event if the virus is stamped out by spring next year. That's when NASA will hopefully lob another four travelers to the space station, including two from NASA, one from JAXA, and one from the European Space Agency (ESA).
"NASA astronauts Shane Kimbrough and Megan McArthur will serve as spacecraft commander and pilot, respectively, for the mission," NASA announced on Tuesday regarding Crew-2. "JAXA astronaut Akihiko Hoshide and ESA astronaut Thomas Pesquet will join as mission specialists."
It appears no Russian cosmonauts are expected to fly from America just yet. The relationship between the US and Russia's space agencies is rocky after the Roscosmos' Director General Dmitry Rogozin blasted NASA, accusing it of being unprofessional. He also claimed that launches to the International Space Station using Russia's disposable Soyuz rockets were actually cheaper than SpaceX's reusable Falcon 9 rockets.
For Benhken and Hurley's return trip, their ride, a SpaceX Dragon capsule, will detach at 1943 EDT (2334 UTC) on Saturday. The spacecraft will deorbit and plunge back into Earth's atmosphere where parachutes will be deployed for a splashdown somewhere in the Atlantic Ocean or the Gulf of Mexico. The astronauts will be brought back to solid ground after they're rescued at sea.
You can watch the final part of that Demo-2 mission on NASA TV on August 1 starting at 0910 EDT (1310 UTC). ®