This article is more than 1 year old
Spending on 5G to double despite the pandemic while legacy network infrastructure sector suffers – Gartner
Also, half of the world's 5G investment currently is spent by China
Worldwide spending on 5G is set to double in 2020, according to analyst house Gartner, in stark contrast to the wider cellular infrastructure sector, which will see revenues plummet overall.
Spending on 5G kit is expected to hit $8.12bn, up 96 per cent from 2019's $4.14bn. Meanwhile, infrastructure as a whole is set to decline 4.4 per cent to $38.1bn, compared to 2019's $39.8bn.
The biggest revenue drops are to be found in so-called legacy networks, like 3G and 4G, which the analyst predicts will drop by 37.1 per cent and 20.8 per cent respectively for the year. Gartner's Kosei Takiishi attributes this to networks transitioning to "maintenance mode" while newer 5G systems reap all the capital investments.
"Despite investment growth rates in 5G being slightly lower in 2020 due to the COVID-19 crisis (excluding Greater China and Japan), CSPs in all regions are quickly pivoting new and discretionary spend to build out the 5G network and 5G as a platform," Takiishi added.
China accounts for about half of all 5G ... worldwide investment in 2020
Though it's inevitable that 5G spending will continue to gather momentum, Takiishi noted that savvy deployment approaches by networks have managed to help the technology along.
"A growing number of CSPs are prioritizing 5G projects by reusing current assets including radio spectrum bandwidths, base stations, core network and transport network," he said. Meanwhile, promising technologies like OpenRAN and vRAN (virtualized RAN) will increase network adoption further, thanks to their lower costs and resistance to vendor lock-in.
Over the short-term, Greater China leads the world in 5G development, with.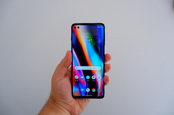 Motorola Moto G 5G Plus: It won't blow your mind, but at £300 we're struggling to find much to grumble about
READ MORE
Presently, China accounts for about half of all 5G investment, Gartner noted, stating that "49.4 per cent of worldwide investment in 2020" could be chalked up to the region.
Other industrialised nations are rapidly gathering pace, however, with 5G expected to be available to 95 per cent of the population in North America, China, Japan, and "mature Asia/Pacific" – the latter referring to the more affluent nations in the region, like South Korea.
Gartner expects spending on legacy networks to continue plummeting, particularly as carriers activate their 5G SA (standalone) networks, the later generation tech which does not rely on piggybacking on the infrastructure of existing 4G/LTE networks. The analyst house has forecast that 5G SA will represent 15 per cent of 5G deployments by 2023. ®