Arm China brands itself a 'strategic asset', calls for Beijing's help in boardroom dispute with Brit HQ
'We just wanna design chips without distractions', say staff in open letter
Updated British chip designer Arm's Chinese outpost has called in the Chinese government to "protect" it in an ongoing boardroom dispute with its parent company.
In an open letter released on Tuesday and signed by over 200 of its employees, Arm China said it "is a Chinese-controlled joint venture that should abide by Chinese laws and fulfill the social responsibility in China."
The letter continues: "We plead with the government to pay attention to the turbulence Arm China is facing now, and intervene to protect this strategic asset."
The post to the company's WeChat and Weibo account, tagged dozen of government bodies, local courts, police authorities, and state-backed media, including the National Development Council, China's top legislative council.
The letter is a new escalation of the boardroom battle between the British chip designer and its joint-venture Chinese entity. The dispute started in June 2020 when Arm's Cambridge headquarters said it had fired the head of Arm China, Allen Wu following complaints from whistle-blowers and employees that he had "failed to disclose ... conflicts of interest". He was replaced by two interim co-CEOs, Phil Tang and Ken Phua.
Wu, who led Arm's China business since 2014, hit back saying that Arm China is "an independent entity and legally registered in China," and that he would not be stepping down. To demonstrate this point, Wu said he had fired Tang.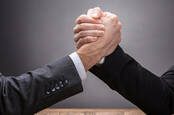 Arm hopes AWS, FOSS, cloud-native combo will wrestle you onto its architecture
READ MORE
The new statement from Arm China also accused Arm HQ of "harassing" its employees and coercing clients to push Wu out. The social media posts said that the Chinese businesses revenues grew more than 50 per cent in 2019 and now accounts for as much as 27 per cent of Arm's global licencing business.
"Arm China is devoted to empowering the foundation of China's semiconductor industry," it said. "This joint venture plays a strategic role in China's chip industry in the past two years amid the dynamics of the international chip competition landscape."
The boardroom battle comes two years after Softbank-owned Arm sold a 51 per cent stake in its Chinese subsidiary for $775m to a consortium of local investors, including the Silk Road Fund and Singapore's state investment vehicle, Temasek Holdings. The sale allowed the China branch to take over all of Arm's licenses, royalty business, marketing, and customer support in China.
The Chinese joint venture is especially important to Arm's relationship with Huawei, its biggest customer in China. Arm's Cambridge headquarters temporarily blocked sales to the Chinese telco giant last year after Washington blacklisted the company. Arm later relented, arguing that the schematics it was selling to Huawei were designed in the UK, not in the US, and therefore exempt from US restrictions.
The situation in China comes as rumors suggest cash-strapped SoftBank may offload Arm to NVIDIA. ®
Updated to add
A US-based spokesperson for Arm has been in touch to say, "Arm remains committed to enabling semiconductor innovation in China through the Arm China joint venture and its employees," adding in a statement:
Unfortunately, in the weeks following the legally valid resolution to remove Allen Wu as CEO of Arm China on June 4 by the Arm China Board of Directors, Allen has refused to relinquish the company chop and step down, while propagating false information and creating a culture of fear and confusion among Arm China employees. Allen's focus on his own self-preservation has also put China semiconductor innovation at risk as he has attempted to block the critical communication and support our China partners require from Arm for ongoing and future chip designs.
"The Arm China board is working closely with government authorities to peacefully resolve the current issue and ensure Allen Wu is unable to commit further harmful or disruptive actions against Arm China employees and partners moving forward," the statement continued.