This article is more than 1 year old
It's been five years since Windows 10 hit: So... how's that working out for you all?
Most of the things Microsoft said would be great were not
Windows 10 was made generally available on 29 July 2015, introducing the concept of Windows-as-a-Service, a digital assistant called Cortana, a Universal Windows Platform for developers, Continuum to enable "a Windows Phone to become like a PC", and not forgetting the revival of the Start menu.
Following widespread disappointment with the radical new Start screen and touch-friendly application platform introduced in Windows 8, Windows 10 was two steps forward, and one step back, from the popular but ageing Windows 7.
Five years ago Microsoft was desperate to get its customers off Windows 7, so much so that the operating system was a free upgrade. But in this case free was an insufficient incentive, and Redmond also entered dodgy territory with near-enforced upgrades via a notorious Windows update called GWX or "Get Windows 10".
All but the most tech-savvy of users got this whether or not it was wanted. One reader told us at the time: "On every single one of our machines we said 'No' to the update. We uninstalled the KB that even asks for the update. Yet ... every single one of our machines has downloaded Windows 10 in the background and demanded to install itself."
Microsoft's extreme measures were because of a problem it faced: the burden of a huge installed base of users with a patchwork of different versions of Windows, made worse by the reluctance of many to upgrade to Windows 8. There was little chance of establishing a new application platform when so many couldn't or wouldn't run it.
Developers had a choice: make a Win32 application and have a large market, or develop for Windows 8 or UWP and have a smaller market. This remains an issue even today, with Windows 7 still having a nearly 20 per cent share of active Windows users, according to Statcounter, or approaching 30 per cent, according to Netmarketshare.
Those figures drop dramatically for certain territories – Statcounter puts the Windows 7 share at under 10 per cent in the UK, for example – and five years on, it is fair to say that most Windows users run Windows 10, especially the subset likely to install or buy new applications.
Windows 10 was just as radical as Windows 8, though in different ways. The goals of Windows 8 were to modernise Windows and enable it to compete with Apple's iPad on devices of different types and sizes, as well as to make Windows a more secure operating system with applications store-delivered and isolated from each other.
By the time of Windows 10, the company had lost faith in the tablet revolution, but still wanted to make a go of the secure application platform, which it adapted into UWP.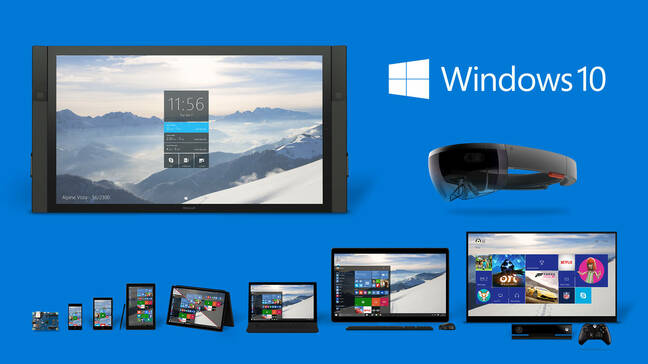 Welcome to the Windows family. Click to enlarge
There was also the matter of Windows Phone, perhaps a more notable failure even than Windows 8. Traces of the Windows Phone design ethos remain in Windows, in the blocky UWP design style, but little else.
During the initial development of Windows 10, however, Windows Phone was still a thing, and the ability to run the OS on the phone as well as on larger devices was touted as one of the benefits of the new operating system.
Microsoft's strategy changed quickly. In April 2014, it acquired Nokia's phone division, supposedly heralding a new era in which Redmond would properly understand, support and progress its smartphone ambitions.
Little more than a year later, in June 2015 before the launch of Windows 10, the dream was over, some new Lumia models were cancelled, and Stephen Elop, head of that phone division left the company. Instead of Windows everywhere, it was to be Google Android and Apple iOS everywhere, with mainstream Windows confined to its desktop niche (though embedded Windows lived on in specialist devices).
Counting the score
What were Microsoft's goals with Windows 10 and did it achieve them? The scorecard does not look good. Here is a quick rundown:
Windows everywhere – desktop, laptop, tablets, smartphones and Xbox. We have to score this as a fail, despite some Windows 10 presence beyond desktops and laptops. The smartphone idea died, and Windows tablets never came close to the iPad's popularity or usability. One of the issues is that while Windows 8 was a good design for tablets, Windows 10 was not and still is not. Continuum evolved into discontinuum.
Windows as a service. The Windows chief at the time, Terry Myerson, promised: "Once a Windows device is upgraded to Windows 10, we will continue to keep it current for the supported lifetime of the device – at no additional charge. With Windows 10, the experience will evolve and get even better over time. We'll deliver new features when they're ready, not waiting for the next major release. We think of Windows as a Service … the idea of asking 'What version are you on?' will cease to make sense – which is great news for our Windows developers."
We'll grant that Microsoft has partially achieved this vision. Windows 10 is regularly updated, most users do upgrade where they can, and while this is occasionally painful, mostly it works.
The Windows 10 Enterprise LTSC (Long Term Support Channel) still exists for businesses who prefer the old model of occasional and optional big updates, though consumers have no escape. Great news for developers, though? The truth is they are still not that happy. And that is because...
The Universal Windows Platform has never fully taken off. The Universal bit made little sense after the abandonment of Windows Phone. The Windows Store at the launch of Windows 8 was a disaster, and for the launch of Windows 10, still not great.
The positioning of UWP has evolved, at one time distinct from Win32 (or classic Windows), but now being merged with it in what the company called Project Reunion. We'll score this one a fail.
Cortana, Microsoft's digital assistant. Another sad story. Cortana was another Windows Phone innovation, arriving in 2014 with 8.1. Cortana had several ingredients: the Bing search engine, a "Notebook" of information about the current user, speech recognition and AI.
Similar in concept to Apple's Siri or Google's Assistant, Cortana could answer questions, offer reminders, and perform actions like sending a text message or placing a calendar entry. In Windows 10, Cortana was built in, strangely integrated with the Start menu.
Today Cortana is in retreat. There is still a Cortana app, but integration with Start has ended (to the relief of many users), and the agent has been repositioned as a component of Microsoft 365. Cortana worked better on Windows Phone but dedicated devices running Cortana made no impact. Microsoft's naming department also applied the brand to some intelligence services. Despite a big investment, and to some extent foisting Cortana on Windows 10 users, we'll score this a fail too.
What about the revived Start menu? Users would, we suspect, have been happier with something more like that in Windows 7. This was especially true in the early months, when users with more than 512 entries found some or all of their application shortcuts missing. Ingenious workarounds were discovered, or users resorted to a third-party substitute.
Even when it worked as designed, the blending of local and internet search left users fuming when an attempt to start an application landed them on some random website instead. An additional panel offers the remnants of the Windows 8 Start screen, a customisable array of tiles. Fail.
The Edge browser, introduced in Windows 10, has not enjoyed a smooth ride. Despite better HTML 5 standards support, a clean user interface, a fast JavaScript engine called Chakra, and a leap in security when compared to Internet Explorer 11, Microsoft could not persuade users to adopt it in the numbers it hoped for.
Folks were frustrated by poor experiences on some websites, sometimes for no reason other than the site detected a Microsoft browser and delivered a downgraded experience suitable for IE, or did not work at all. In late 2018 Redmond abandoned its in-house browser engine and adopted Chromium within a revamped Edge.
There is a twist, though. Despite the innovations in Windows 10 being, for the most part, not great, things did not work out badly. The engineering of the core Windows operating system has steadily improved despite the cosmetics, and Windows 10 betters Windows 8 just as, in this respect, Windows 8 betters Windows 7.
DirectX 12 performed well, for example, continuing the PC's role as a strong gaming platform. Compatibility with countless legacy Win32 applications is good, and even applications created with Visual Basic 6.0 (released in 1998 and out of support since 2008) still mostly run on Windows 10 today. Windows 10 had annoyances but not to the same extent as Windows 8, and in the five years since its launch Microsoft has refined it.
One can also point to things in Windows 10 that have worked out well. Sign in to Azure AD (or Office 365) was not quite there at launch, but planned, and it works nicely for customers of Microsoft's cloud. Multiple desktops is a handy feature, though seemingly little used.
Microsoft has also pulled off something hardly hinted at in the first release, which is to make Windows 10 excellent for developers (by which we mean developers working on Windows but often targeting other platforms such as web, mobile or server applications), especially after the introduction of Windows Subsystem for Linux in 2016, a year after the initial release.
Many of the things Microsoft said would be great about Windows 10 have turned to dust, but even at launch it was the best Windows yet – although Version 7 aficionados may disagree.
In March, the company announced that it now runs on one billion active devices. Before the launch of Windows 10, Myerson told developers at the 2015 Build event that the goal was one billion devices "two to three years after launch".
Achieving that goal came late, but it was achieved. Despite everything that went wrong, Windows 10 succeeded in putting the company's desktop operating system back on track. Shame about the phone, though. ®