This article is more than 1 year old
BT: 'Because of the existing underlying supply of the 4G equipment, most of our 5G (NSA) so far is with Huawei'
Vodafone not happy either as telcos complain to defence sub-committee about Huawei removal woes
Stripping Huawei from the UK's telecommunications network presents a daunting challenge, executives from Vodafone and BT told the House of Commons Defence Sub-Committee yesterday afternoon.
Scott Petty, chief technology officer of Vodafone, described the existing 5G NSA (non-standalone) deployments as "inextricably linked" to the underlying legacy networks like 4G, 3G, and 2G.
"As we deploy our 5G base stations, we will have to swap our Huawei 4G base stations to an alternate vendor. That creates both disruption in our network and incremental costs for us in our 5G deployment plans," he said.
"We are happy with the decision on 2027 as it gives us time to swap without major disruption to our networks and enables us to develop the OpenRAN ecosystem."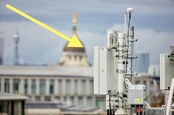 EE switches on 5G: Oi, where are your Mates? Yes, we mean the Huawei phones
READ MORE
Also providing testimony was BT's CTIO, Howard Watson, who said the former state-owned telecommunication firm "welcomed the clarity" and the 2027 deadline, which it said would allow the firm to keep to the £500m budget it allocated in early January to replace existing Huawei 5G RAN components.
Huawei-made equipment currently powers two-thirds of BT and EE's existing 4G edge network, with the controversial Chinese firm also powering the core. Watson told the sub-committee the firm is actively in the process of removing Huawei-made core components.
BT is similarly exposed to Huawei in its 5G network. "Because it's the non-standalone I described earlier, it runs off that existing 4G core. Likewise, because of the existing underlying supply of the 4G equipment, most of our 5G so far is with Huawei, although we also have Nokia," he added.
In order to meet guidelines established by the Department for Digital, Culture, Media and Sport in January, following its 18-month supply chain review, BT will have to reduce that number to 35 per cent by 2023, with Huawei's complete excision planned for 2027. Watson noted that much of this "high risk" equipment is located in urban areas.
Vodafone is likely to face fewer headaches, with Huawei-made components accounting for one-third of its SingleRAN kit. The remainder is provided by Ericsson. Its core network consists of components from several vendors, including Ericsson, Cisco, and Nokia. ®