New Relic streamlines app monitoring tools, shifts to per-user, pay-as-you-go pricing, adds free tier to lure you in
'The concept of paying for monitoring per host has not aged well'
Application Performance monitoring (APM) biz New Relic has trimmed its offerings to three core products and is moving away from host-based pricing to a per-user-per-month subscription and pay-as-you-go for data ingested and events processed.
There's also a new "perpetual free" tier that handles 100GB/month of free data, one free full-access user, and unlimited free basic users.
Founder and CEO Lew Cirne today said the biz has "simplified New Relic One into just three products that comprise one complete observability platform." The reason, he said, was customer feedback on the difficulties of getting "single source of truth" for data.
The three product groups are Applied Intelligence, which covers anomaly detection based on signals such as latency, errors, and traffic, with machine learning to improve detection accuracy; Telemetry Data Platform, which collects metrics and logs for analysis and visualization, and Full Stack Observability, which analyses infrastructure health, application performance and end-user behaviour.
Paying New Relic is also changing. The problem, said product boss Manav Khurana, is that "the traditional concept of paying for monitoring per host has not aged well."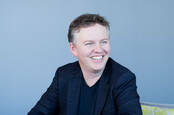 Cloudflare's new serverless platform lets its Workers run for 15 minutes before giving them the boot
READ MORE
"This is particularly true of modern architectures that abstract the underlying infrastructure from applications, use automated orchestration tools like Kubernetes to dynamically assign containers to hosts, or allow you to run code via serverless technologies," Khurana added.
The new pricing therefore is based on data ingested for telemetry data, a per-user price for Full Stack Observability, and events and transactions processed for Applied Intelligence. The newly introduced free tier covers one Full Stack Observability user and limited data and transactions for the other two products.
Per-user and usage-based pricing does make sense in the cloud and microservices era. Cirne will also be aware of the big cloud providers offering their own application monitoring tools, such as AWS CloudWatch, Azure Monitor and Application Insights, and Google Cloud Monitoring, potentially putting pressure on independent APM vendors. For its latest financial year – the 12 months to March 31 – New Relic reported revenue up by 25 per cent year-on-year to $600m, but an operating loss of $85.5m.
In its April 2020 Magic Quadrant for APM, Gartner rated New Relic one of four "leaders" (the others being Cisco's AppDynamics, Dynatrace and Broadcom), but said that its use of multiple agents depending on the language and environment being monitored added complexity. Gartner also observed that "New Relic One has created some confusion with regard to overlapping capabilities."
That, perhaps, is part of the rationale for the new simplified product line-up. ®