This article is more than 1 year old
When you're stuck at home in a pandemic, what do you do? Watch TV, play music, use apps, buy laptops, gadgets... Stuff that Apple touts
And stuff that Cupertino just banked billions from
Apple is weathering the COVID-19 storm well so far: on Thursday, it reported a surge in sales from its online souks, and maintained iPhone revenues despite temporarily shuttering stores during the ongoing coronavirus pandemic.
"In uncertain times, this performance is a testament to the important role our products play in our customers' lives and to Apple's relentless innovation," CEO Tim Cook gushed, referring to his corp's financial figures for its third quarter of this fiscal year. "Apple's record June quarter was driven by double-digit growth in both Products and Services and growth in each of our geographic segments."
Here are the key numbers from Apple's fiscal Q3 earnings report [PDF], covering the three months to June 27:
Revenues of $59.7bn, up 11 per cent from the previous year, and beating Wall Street's expectations by $7.13bn.
Products, like iThings and smartwatches, were responsible for revenues of $46.5bn, up 10 per cent, and services like Apple Music and TV and the App Store raked in $13.1bn, up 15 per cent.
iPhones alone accounted for $26.4bn, up 1.7 per cent from the year-ago quarter and beating expectations of $22bn. iPads netted $6.6bn, up 31 per cent, and Macs $7.1bn, up 21 per cent. China, we note, netted Apple $9.3bn, up two per cent.
Net income of $11.3bn, an increase of 12 per cent year-over-year.
GAAP earnings per share of $2.58, that rounds up to rise of 22 per cent compared to last year, and beat expectations by 51 cents.
Cook said during a conference call with Wall Street analysts that the boost in financials were down to a "better than expected demand in May and June." The most difficult time was during the first three weeks of April, when cities implemented strict shelter-in-place rules that included closing down non-essential businesses, such as Apple stores, offices, and factories, in an attempt to contain the outbreak of the novel coronavirus.
These rules have slowly relaxed over time; many Apple stores are now open on the condition that customers adhere to social distancing rules. Cook said the iGiant was closely monitoring the pandemic to see whether it might have to close its shops again due to the rising number of COVID-19 cases across, say, the US.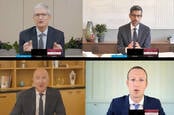 At historic Apple, Amazon, Facebook, Google CEOs hearing, congressmen ramble, congresswomen home in on tech market abuse
READ MORE
In terms of products, iPhone sales dominated other areas. Apple said the slight rise in revenues from its smartphones was down to its iPhone SE handset launch. Customers with older models are switching over to the newer, smaller phone that's cheaper than its flagship cellphones. The most popular phone, however, remains the iPhone 11.
Also, the iPhone 12 will launch a few weeks later than its usual September reveal, we're told.
Macs and iPad sales increased steadily. Cook said his tech titan was working hard to get more machines into customers' homes as people continue to work or study from home.
Apple Watches and other bits of gear like its HomePod digital speaker totaled $6.4bn, up 16 per cent.
"Our June quarter performance was strong evidence of Apple's ability to innovate and execute during challenging times," added CFO Luca Maestri. "The record business results drove our active installed base of devices to an all-time high in all of our geographic segments and all major product categories."
As expected no guidance was given for the upcoming quarters. ®