This article is more than 1 year old
Elite name on Brit scene sponsors retro video games preservation project at the Centre for Computing History
Couldn't come at a better time as Cambridge museum remains closed
Spotify is to music what Steam is to video games – sometimes you just want to spin some classic vinyl while picking through the liner notes, feel the gatefold between your fingers.
Fortunately, Cambridge's Centre for Computing History harbours the largest documented collection of video games in the UK – real, physical copies along with the computers, consoles, and peripherals needed to experience them – so people can get hands-on with gaming through the ages without having to resort to emulation and other inferior formats.
But the museum and educational charity has fallen on hard times, what with all the [GESTURES BROADLY], meaning it's been closed to the public since lockdown, staff have been furloughed, and income has dried up.
This has hit pause on the centre's noble goal of preserving video game history. However, help is at hand from something of a doyen on the Brit gaming scene.
Frontier Developments, the games maker led by Elite creator and Raspberry Pi co-founder David Braben, has stepped in to sponsor the project, meaning staff can get back to documenting, cataloguing, and caring for the museum's retro goldmine.
Many of you will be familiar with Elite, the seminal 1984 space sim originally released on Acorn Computers' BBC Micro, which boasted primitive (revolutionary at the time) 3D graphics and a galaxy in which to ply your trade – be it piracy, bounty hunting, mining or hauling goods across the stars. Sequels followed in 1993 and 1995, but Frontier updated the blueprint for the 21st century with Elite Dangerous in 2014, which boasts a to-scale simulation of the Milky Way. It's rather good.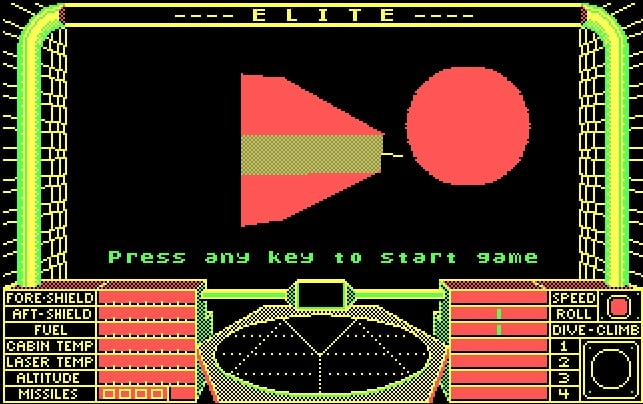 Feeling nostalgic yet? Go here
The developer is also known for its RollerCoaster Tycoon titles, and recent entries include modernised theme park management games Jurassic World Evolution, Planet Coaster, and Planet Zoo.
CEO Braben said: "As someone who has been in the video game industry since 1981, I believe the work that the museum is doing in ensuring that those early computers and video games are preserved for future generations to enjoy and learn from is vital.
"A whole generation of programmers learned on the open and easy-to-program machines in those early years and have gone on to found major companies, and this was the inspiration behind Raspberry Pi too, to give that opportunity to new generations. I would urge other game and software developers to support the Centre for Computing History too and ensure that our legacy is carefully preserved and well-documented."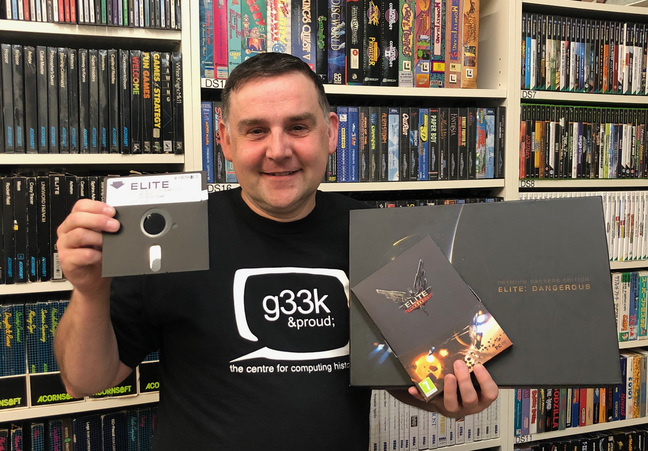 Jason Fitzpatrick with the Limited Edition backers edition of Elite Dangerous and an original 5.25" floppy disk from the early '80s
Museum curator and computer historian Jason Fitzpatrick commented: "Video games are a snapshot of the popular culture of their time. They often mirror what is happening culturally at the time. The Space Race, Cold War and even awareness of mental health issues, are all topics that have contributed to trends in gaming. It is vital that video games are treated in the same ways as books or films for example when it comes to preservation. We are deeply grateful to Frontier for supporting our preservation work at a time when it helps us the most."
Quite right. Other notable projects from the Centre for Computing History in better times include attempts to revive the original ZX Spectrum prototype, along with its ROM for your download pleasure. Since lockdown, a member of staff has also recreated the museum within Nintendo's Animal Crossing: New Leaf "to produce extra content to entertain and educate from home".
Hopefully we can once again run through its halls in real life before too long. Until then, there are sponsorship opportunities here for companies interested in supporting the Centre for Computing History's work, and a Just Giving page for individuals who'd just like to throw fellow nerds with good intentions some pocket change. ®