This article is more than 1 year old
Glum Alphabet execs look up from red-ink ad figures. What will we do, they ask. Ahem, coughs Google Cloud
Chocolate Factory's as-a-service stuff grows as advertising, profit takes a tumble
Google-parent Alphabet saw its bottom line take a tumble this past quarter as the coronavirus pandemic cut into its lucrative advertising business.
And the two-per-cent dip in revenue marks the first time Google-slash-Alphabet has seen a year-over-year sales decline. If there is good news to be had, it is that Google Cloud revenues are still growing rapidly. So much so, they're on track to overtake YouTube's ad sales.
For the Chocolate Factory's second-quarter [PDF] of 2020, the three months to June 30, here's the highlights, as released on Thursday:
Revenues of $38.3bn were down two per cent from the year-ago quarter's $39bn, but were better than the $37.3bn analysts had predicted.
Net income of $7bn was down 30 per cent from Q2 2019's $10bn haul.
Non-GAAP EPS of $10.13 marked a sharp decline from $14.21 last year, but was better than analyst predictions of $8.34
Advertising revenues of $29.9bn were down nine per cent from last year's $32.5bn haul.
Google Cloud was a rare bright spot, as revenues of $3bn were well up, some 43 per cent, from the year-ago quarter's $2.1bn tally. This was due to, we're told, demand for infrastructure services, and G Suite price increases.
Other Bets, such as Verily and Waymo, managed to deepen their losses, with the red ink running to the tune of $1.1bn, compared to a $990m loss in Q2, 2019.
Google execs tried to put a positive spin on the quarter, noting that most of the damage to the advertising operation happened in March and revenues were back to level by July.
There was also bad news for those hoping to land a job at Google, as execs said they planned to slow down on their hiring for most departments. One exception to that is Google Cloud, where soaring revenues have the Chocolate Factory looking to load up on techies.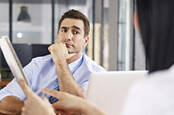 Google forced to defend new trademark foundation as Knative community takes umbrage at 'neutrality' claims
READ MORE
"We are still hiring aggressively in Cloud," CFO Ruth Porat told analysts on a conference call of the hiring plan. "We are trying to make sure that we are getting those trade-offs right."
The execs also touched on this week's congressional hearing in which CEO Sundar Pichai and other tech bigwigs were called forward to discuss antitrust issues. The Google boss was diplomatic in the aftermath of his grilling, telling analysts that he understood why Google was subject to scrutiny.
"We have obviously been operating under scrutiny for a while and we realize, at our scale, that is appropriate," he said. "We will operate based on the rules and to the extent that there are any areas where we need to adapt, we will. I think the scrutiny is going to be here for a while, so we are committed to working through it."
Alphabet shares held steady in after-hours trading, up 1 per cent at $1,546. ®