Book review In Dana Dash: First Girl on the Moon, it shouldn't be surprising that Dana Dash, a 10-year-old science-obsessed girl, makes it to and walks on the Moon – but that doesn't make it any less exciting.
After one of her experiments blows up and she is banned from all her science classes at the public school Dana goes to, she and her best friend, Noah Knight, enter a competition where the winners get a scholarship to a mysterious private school that focuses only on STEM (science, technology, engineering and math).
They decide for their project they will build a landing capsule that they can live in for a week and call it The Beetle. But when it's finished, it's so big they can't get it out of Dana's garage to take it to the contest.
That's when Dana discovers the school has lots of secrets, including crazy technology – and secret passages – that might help. It does, but it also ends up sending Dana, Noah, and The Beetle, as well as school head Dr Cavor, into space.
As the book title says, Dana ends up on the Moon. But that's only the start of this crazy adventure. While fixing The Beetle for its journey home, Dana finds that they are not alone – and the inhabitants are not very friendly.
Dana and Noah's science knowledge helps them escape and make it back home. But it turns out that aliens don't live only on the Moon.
I enjoyed this crazy and magical story, but some bits freaked me out. Like when they see one of their professors breathing in lizards which he can control with his will. And finding a dead body in Dr Cavor's office. But it's all part of the adventure.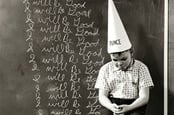 UK spending watchdog blasts £792m STEM school scheme over low student numbers, deficits, education quality
READ MORE
I also enjoyed the pictures from the characters' notebooks. They came in most useful when a picture in Dr Cavor's explained her thinking when it came to landing on the moon. And the pictures of the aliens and diagram of The Beetle in Dana's notebook. Also Noah's notebook helped me understand his biology projects and sketches.
This story has ups and downs and mysteries to solve – like how the professor is controlling the lizards (we never find out) – and also some angles and math equations, all of which I found a little too hard. Maybe I will understand it next year.
The end was also enjoyable, it explained the history of Dr Cavor and the school. It also had a sad bit, an action-packed battle, and a warm, happy and clever way of closing the story.
I think anyone aged nine and over will enjoy this book. It was fun and surprising but if you aren't OK with a main character dying then maybe this isn't for you [whoa, spoiler alert?! – ed]. But now you know why Dana Dash: First Girl on the Moon isn't your average science book. ®
Dana Dash: First Girl on the Moon by SS Hudson is available to buy online.