This article is more than 1 year old
Apple's big trouble in not-so-little China – culls 30,000 apps from its Middle Kingdom App Store in legal crackdown
Game developers face local license law that could 'devastate' iOS revenues
Apple removed over 30,000 apps from its iOS App Store in China on August 1, according to China-based analytics biz Qimi Data.
The takedown largely focused on games, which accounted for almost 27,000 of the delisted apps, Qimi Data said. That represents nearly half of the roughly 64,000 games that are paid or include in-app purchases in the App Store China, according to app distribution biz AppInChina.
In February, Apple told developers offering mobile games in mainland China that they would have to comply with a 2016 law requiring a license from the General Administration of Press and Publication of China for software that includes in-app purchases. Cupertino gave developers until June 30 to comply and now appears to be enforcing that requirement.
China represents a significant market for Apple, which banked $9.33bn in Greater Chinese revenue in its last quarterly results. But persistent tensions between the US and China over trade has left Apple in a precarious position. If trade conflicts continue to escalate, Apple could find itself subject to politically-driven retaliation in the form of tariffs, restrictions, or legal woes.
Cook & Co also face further legal worries. Shanghai Zhizhen Intelligent Network Technology Co. Ltd, a Chinese AI biz also known as Xiao-i, has just revived a longstanding patent infringement claim against Apple's Siri voice assistant, according to Reuters.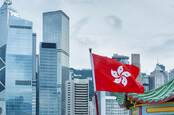 Beijing's tightening grip on Hong Kong could put region's future as an up-and-coming tech hub in jeopardy
READ MORE
Shanghai Zhizhen initially sued Apple in 2012 over a patent that it had applied for in 2004 and was granted in 2009. After Apple initially failed in its attempt to challenge the patent, the Beijing Higher People's Court sided with the iPhone maker in 2015. But in June, the Supreme People's Court China reversed that decision and found the patent valid.
If we're not back by dawn… call the president
It's not clear whether the Chinese court's decision followed more from political pressure than legal doctrine, but given the Trump administration's anti-China campaign – exemplified by its treatment of Huawei and more recently its attempt to prevent Chinese-owned TikTok from operating in the US – it's not clear that politics and business can be separated where the US and China are concerned.
Apple has tried to appease both sides, though at the cost of its public image. The company's decision two years ago to comply with China's requirement to store mainland Chinese users' iCloud data locally was met with objections from Amnesty International that it had betrayed its ostensible commitment to privacy.
In a blog post, Todd Kuhns, marketing manager for AppInChina, said that while the removal of non-compliant apps was expected, the number of apps affected is more than anticipated.
"This affects small-and mid-sized developers' incomes the most, but due to the difficulties of acquiring a business license, it's devastating to the whole iOS game industry in China," said Kuhns.
According to AppInChina, it takes anywhere from six to 12 months to get a license, and that's only once a company has partnered with a Chinese company: Non-Chinese companies and individual developers cannot apply for a license on their own. The only other alternative is to rely on ad revenue – a business model likely to benefit Google more than Apple.
iOS has about a 20 per cent share of the mobile app market in China, compared for about 79 per cent for Android, according to StatCounter.
Apple did not respond to a request for comment. ®