This article is more than 1 year old
Alarming news: ADT to flog Nest smart home kit after Google ploughs $450m into corporate security dinosaur
Resell agreement set up amid plans to build next gen of home automation and security gear
Google is partnering with ancient alarm and automation vendor ADT to push its Nest smart home kit to more consumers and small businesses.
Under the deal, Google will invest $450m in the publicly traded security firm in exchange for a 6.6 per cent stake.
ADT's engineers will also be trained to sell and install Google's ever-expanding menagerie of Nest smart home kit, which covers thermostats, smoke and carbon monoxide alarms, and Wi-Fi-enabled security cameras.
Both businesses have earmarked $150m apiece – provided certain targets are met – to co-develop future connected products. These funds will be used for co-marketing, product development, and employee training.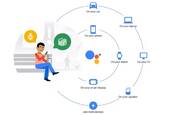 Google isn't even trying to not be creepy: 'Continuous Match Mode' in Assistant will listen to everything until it's disabled
READ MORE
Rishi Chandra, veep and GM at Nest, said: "The goal is to give customers fewer false alarms, more ways to receive alarm events, and better detection of potential incidents inside and around the home. It will also provide people with more helpful notifications that make everyday life more convenient, like package detection."
ADT, whose shares soared 80 per cent in pre-market trading, expects to start selling Google Nest-branded products this year, with the partnership entering its more advanced phase in 2021.
While this news is undoubtedly welcome investment for ADT, it also might help address Google Nest's biggest commercial blind spot: the business market.
Existing Nest products are overwhelmingly aimed at home users. Commercial users – with larger premises and less flexible uptime requirements – tend to veer towards more targeted products from the likes of ADT and Verisure (formerly Securitas).
There's nothing less sexy than warehouses and offices, but corporate customers are more likely to regard a security system as a "must-have" rather than a "would be nice". Moreover, they're more inclined to spend big – not just on hardware, but also on long-term support and monitoring packages. ®