This article is more than 1 year old
Assimilation completed! HPE says it has finished the merger with Cray and unveils combo supercomputing lineup
All aboard the exascale express
Having acquired supercomputer biz Cray last year for $1.3bn, HPE on Monday said it has fully integrated the two businesses. The enterprise-oriented IT firm will offer high-performance computing under the HPE Cray supercomputing brand to address what it calls the Exascale Era.
That's reference to computing hardware capable of at least 1018 floating point operations per second, or 1 exaflop.
Two months before HPE revealed its intention to purchase Cray last year, the US Department of Energy announced plans to work with Intel and Cray to build "Aurora," the first exaflop-capable supercomputer in the US, to be delivered in 2021.
HPE inherits that contract and along with the DoE's 1.5 exaflops Frontier system for Oak Ridge National Laboratory, planned for 2021, and its 2 exaflop El Capitan, planned for late 2023. These two Cray Shasta systems rely on AMD CPUs and GPUs.
"I'm incredibly excited about this as the new HPE Cray supercomputing line answers the challenges posed by the Exascale Era," said Peter Ungaro, SVP and general manager of HPE's HPC and Mission Critical Solutions group, in a statement. "And this new era of computing is entirely different. It isn't about single, gigantic supercomputers or specific, one-of-a-kind technologies."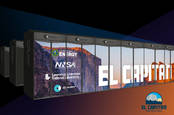 Uncle Sam's nuke-stockpile-simulating souped-super El Capitan set to hit TWO exa-FLOPS, take crown as world's fastest machine in 2023
READ MORE
It's about dealing with ever-more expansive sets of data and the need for modeling and simulation that works with AI and analytics, he suggests, heralding the Age of Insight.
That's an invented era proposed by HPE CEO Antonio Neri to distinguish the calculations coming out of machine learning and modern analytics from the calculations of yore.
The HPE Cray rebranding is also about competing more effectively against Dell EMC and IBM.
The HPE Cray product line, already nourished by HPE's acquisition and digestion of high-end calculation biz SGI in 2016, includes two basic configurations: The HPE Cray supercomputer, which consists of an air-cooled Apollo 2000 Gen10 Plus running 4 AMD EPYC 7002 nodes in a 2U compute server, with HPE Cray software and HPE Slingshot networking; and the HPE Cray EX, a liquid-cooled cabinet that can accommodate eight compute chassis, with room for 64 compute blades (each consisting of four dual-socket AMD EPYC 7002 nodes) and up to 512 processors per cabinet.
In May, HPE reported [PDF] revenue of $589m for its High Performance Compute & Mission Critical Systems group, a decline of 18 per cent year on year that the company attributed in part to "COVID-19-related delays in installations and customer acceptance."
The company's supercomputing business also faces a threat from cloud computing giants that allow rented machines to take the place of purchased hardware for a certain set of workloads. Microsoft's custom Azure supercomputer for OpenAI shows how the industry might go. HPE last month refurbished its GreenLake Cloud Services to better compete for that sort of business. ®