This article is more than 1 year old
If you're on invite-only tech-testing scheme, take care with Amazon's Alexa-powered answer to Google's Glass
iFixit reveals repair won't be trivial
At $179.99 (£140), Amazon's Echo Frames smart glasses aren't cheap. So, if they break, can they be easily fixed? According to the veteran tech torturers at iFixit, the answer is... not really.
Breaking into the Alexa-powered eyewear was easier said than done, with components tightly packed into the chassis, and in some cases affixed with plenty of glue. In order to completely disassemble the device, iFixit was forced to use a heat gun to melt various blobs of adhesive.
Ignoring the fact that consumer tech has become less and less user-serviceable over the years, wearable tech is seldom designed with repairability in mind. For manufacturers in the sector, there are more pressing concerns, like ensuring all components fit into a small and ergonomically pleasing chassis.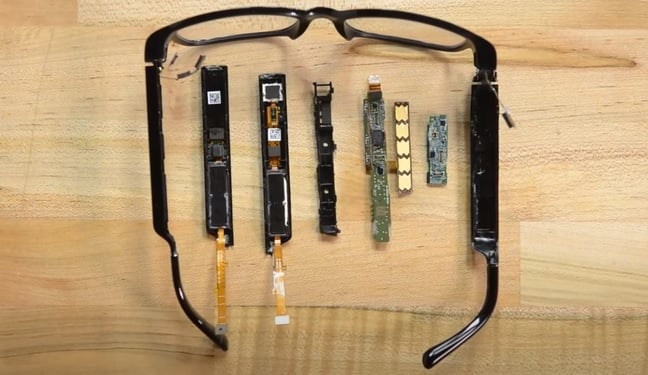 The Echo Frames splayed out
This isn't a hard-and-fast rule, however, and some vendors perform better than others. iFixit gave the Apple Watch Series 5 a repairability score of 6 out of 10 – which is respectable compared to Cupertino's laptops, which tend to fare dismally. The Galaxy Buds also scored a 6, with iFixit applauding Samsung's limited use of glue and the inclusion of standard coin-cell batteries.
Sadly, iFixit wasn't able to score the Echo Frames, simply because there isn't much to compare it to. Glasses are a relatively untapped form factor when it comes to wearable tech. To date, only a few vendors (like Snap and Google) have bothered to experiment with it.
There are various reasons for that. Some people require prescription lenses, which complicates matters. There's also the fact that eye-worn tech makes some feel uneasy, as demonstrated by the "Glasshole" backlash a few years ago.
Amazon hasn't released the Echo Frames to the general public. The pricey specs are part of Amazon's "Day 1" programme, which serves as a launchpad for the firm's more tentative ideas. To buy a pair, you have to request an invitation, which Amazon can grant or deny at its own pleasure. ®