This article is more than 1 year old
Days after President Trump suggests pausing election over security, US House passes $500m for states to shore up election security
Chances of it getting enacted in time for November – slim to almost nil
The US House of Representatives has passed a spending bill which includes a $500m election security provision.
A Friday vote went mostly along party lines as representatives decided by a 217-197 margin to pass the 2021 Spending Bill. The draft law will now go to the Senate.
The $1.3tr spending package [PDF] is likely to be significantly altered, and possibly delayed, by the Republican-controlled Senate, but the $500m security package is a step in the right direction, at least.
Specifically, the half-billion goes to the US Election Assistance Commission and will give states money that will be used to replace electronic voting machines with ones that provide a paper trail of results.
The bill declares that states will "replace voting systems which use direct-recording electronic voting machines with a voting system which uses an individual, durable, voter-verified paper ballot which is marked by the voter by hand or through the use of a non-tabulating ballot-marking device or system."
"This week, the President's reckless comments about our election process have highlighted the importance of ensuring that every state in our union has the resources they need to hold safe and secure elections this November and every election year," Rep Mike Quigley (D-IL) said on Friday.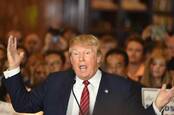 With the US election coming up, when better to petition regulators for a controversial way to chill online speech?
READ MORE
"We must guarantee that every voter has access to the ballot box, and no one is forced to choose between exercising their right to vote and protecting their health."
Election security has become, unfortunately, a partisan argument over what should be a universally accepted idea that more should be done to make sure hackers cannot tamper with vote tallies.
Researchers have shown time and again how vulnerable many of the more widely used voting machines can be to tampering. While there have been no documented cases of elections being rigged by remote hackers, there have been more than a few instances where officials have expressed doubts about the ability of election staff to guard electronic systems.
The use of entirely digital voting machines has been a particular issue of contention. Security experts have said that such machines are particularly risky because they lack a paper trail that can be used to audit votes. Rather, it has been recommended that states opt for machines that also make use of paper ballots.
Matt Blaze, McDevitt Chair in Computer Science and Law at Georgetown University, is making election security the subject of his keynote address to the Black Hat security conference later this week, and the Department of Homeland Security's CISA is also giving a talk on the topic. ®