Virgin Galactic pals up with Rolls-Royce to work on Mach 3 Concorde-style private jet that can carry up to 19 people
Same height, bit faster, same wing layout as iconic 1960s airliner
Virgin Galactic, Beardy Branson's ongoing spaceflight wheeze, has signed a memorandum of understanding with Rolls-Royce to develop "engine propulsion technology" for its "high speed commercial aircraft".
Following Friday's announcement that SpaceShipTwo's interior will include a giant mirror so paying passengers can gurn at themselves in the gravity-free environs of space, today Virgin Galactic made a slightly more serious declaration of intent.
"We are excited to complete the Mission Concept Review and unveil this initial design concept of a high speed aircraft, which we envision as blending safe and reliable commercial travel with an unrivalled customer experience," burbled George Whitesides, chief space officer of Virgin Galactic.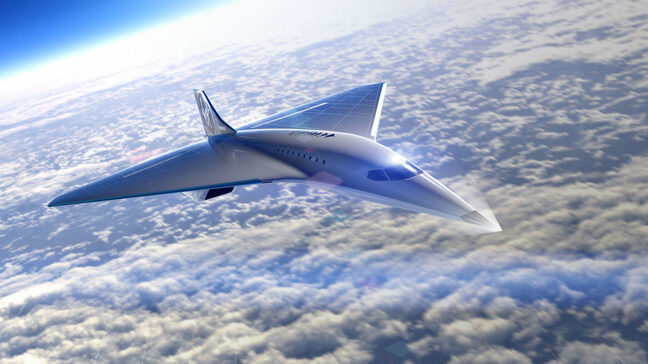 Click to enlarge
A rambling press statement from the company informed the world that an internal design review had signed off on something that sounds rather like a private jet edition of Concorde:
The basic parameters of the initial high speed aircraft design include a targeted Mach 3 certified delta-wing aircraft that would have capacity for 9 to 19 people at an altitude above 60,000 feet and would also be able to incorporate custom cabin layouts to address customer needs, including Business or First Class seating arrangements.
Concorde, the iconic 20th century Anglo-French supersonic airliner, cruised at around 60,000 feet and Mach 2 – albeit while carrying up to 100 passengers in the very best surroundings that commercial aviation had to offer during the airliner's heyday. Branson and chums hope their SpaceShipTwo will attract the ultra-wealthy, replacing commercial scale with depth.
Tom Bell, chief exec of Rolls-Royce's North America division, also had Concorde in mind. In a statement he said: "Rolls-Royce brings a unique history in high speed propulsion, going back to the Concorde, and offers world-class technical capabilities to develop and field the advanced propulsion systems needed to power commercially available high-Mach travel."
Back in the 1960s Rolls-Royce bought Bristol Siddeley, makers of the original Olympus engines that powered both Concorde and the Vulcan nuclear bomber. The engine became unique as the only power plant in aviation history to use an afterburner on a civilian airliner. Whether a reheated turbojet design (à la Olympus 593 on Concorde) would meet modern noise certification requirements on Virgin Galactic's not-a-Concorde will be hotly debated in the coming years; one of the factors that limited Concorde to transatlantic flights was the sheer noise generated by its four engines – even before taking the sonic boom into account.
Six hundred people have reportedly put down $250,000 for a seat on the first Virgin Galactic flights. Another 400 have put down $1,000 refundable deposits for future ticket tranches.
Meanwhile, another firm called Boom Supersonic is also working on a modern heir-to-Concorde design, which it aims to unveil in October. ®