This article is more than 1 year old
Doctor, doctor, got some sad news, there's been a bad case of hacking you: UK govt investigates email fail
Former trade minister Dr. Liam Fox named as source of leaked trade docs
Former UK trade minister and current Conservative MP Dr. Liam Fox has been named as the source of hacked trade documents released during last year's British elections.
"There is an ongoing criminal investigation into how the documents were acquired, and it would be inappropriate to comment further at this point," a UK government spokesperson told The Register. "But as you would expect, the Government has very robust systems in place to protect the IT systems of officials and staff."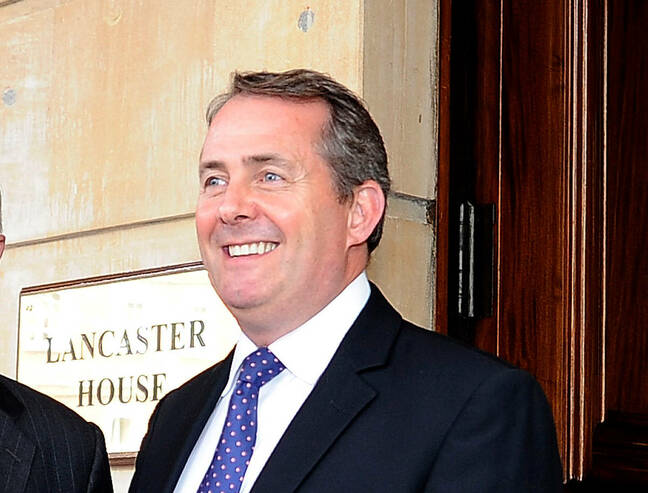 Dr. Fox, in happier times. Credit: DoD/Master Sgt. Jerry Morrison, US Air Force. Click to enlarge
A report from Reuters cited two anonymous sources who say that the 58 year-old Fox, who has since stepped down, had an email account (reportedly his personal one) taken over by Russian hackers, who then used it to obtain and release documents about Anglo-American trade talks.
The classified documents were seized upon by rival Labour Party members to claim that the Conservative government was planning to sell out the NHS to the US government. The report notes that it is unclear if the group that stole the 451-page dossier was also responsible for leaking it to the public, or if a go-between was used to get the documents out.
According to Reuters, one of Fox's email accounts was taken over via a spear phishing attack and accessed a number of times between July 12 and October 21st of 2019. The report notes that it's unclear if the hack occurred while Fox was still actively serving as a member of Prime Minister Boris Johnson's cabinet at the time (he stepped down from the role on July 24 of that year.)
It is not known precisely which Russian hacking crew was behind the attack, though the report notes that it carried all the hallmarks of a state-sponsored operation. The Kremlin has long been believed to pressure criminal hackers to do its bidding by offering incentives or by threatening jail time if they fail to cooperate.
The 2019 hack was said to be only one of a long-running series of attacks Russia pulled off in its attempts to tip UK elections. Russia's FSB (the modern-day successor to the KGB) is said to have tried to tip the scales in elections going back to 2014.
Most notably, it is said that hackers actively targeted politicians in the midst of the Brexit election campaign in 2016, the same year they were said to have stolen emails from US Presidential candidate Hilary Clinton.
Last month, Foreign Secretary Dominic Raab warned that Kremlin-backed APT operations were not only trying to affect UK elections, but also lift vital research on Covid-19 treatments.
"It is completely unacceptable that the Russian Intelligence Services are targeting those working to combat the coronavirus pandemic," Raab said of the attack.
"While others pursue their selfish interests with reckless behaviour, the UK and its allies are getting on with the hard work of finding a vaccine and protecting global health." ®