This article is more than 1 year old
It's beginning to look a lot like Christmas: Fondleslab sales shoot up to festive season levels as folk work from home
Sorry, it's a bit early for Crimbo singalongs, isn't it?
All of the tablet vendors' Christmases have come at once: sales into the channel went through the roof in Q2 at levels only typically seen during the winter holiday quarter amid a coronavirus-induced buying frenzy.
Shipments went up a whopping 26.1 per cent year-on-year globally to 37.542 million with all the major device makers reporting healthy double-digit rises, according to figures from Canalys.
The number cruncher said tablet sales had "faltered in recent years" but came on strong in the last quarter as "consumers and businesses wanted affordable access to basic computing power and larger screens to facilitate remote work".
Canalys said the figures from the top five were the sorts of "shipment levels usually associated with the Q4 holiday season".
Apple posted shipments of 14.249 million units, a rise of 19.8 per cent, coming in below the market average, which meant its market share slipped from 40 per cent to 38 per cent. It likely won't keep Tim Apple awake at night.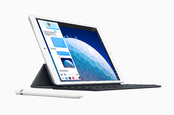 World takes tablets during COVID lockdowns, with shipments spiking 18%
READ MORE
Still retaining the second spot by some margin was Samsung, which grew sales 39.2 per cent to a little more than 7 million tablets. Chinese bogeyman Huawei slotted into third spot with sales of 4.77 million, up 44.5 per cent.
Amazon and Lenovo rounded off the top five, with Jeff Bezos' brand reporting units of 3.164 million, up 37.2 per cent and Lenovo finding some warehouse shelf space for 2.81 million devices, up 52.9 per cent.
The also-rans accounted for just over 5.5 million tablets, up 2.7 per cent to account for 14.7 per cent of the total market.
Ishan Dutt, analyst at Canalys, said the device ticked numerous boxes for "remote work and education use".
He added: "The ability to collaborate virtually as well as view and interact with digital content has become paramount, especially in the education space. The coronavirus pandemic has increased competition for communal screen access between household members forced to stay indoors. Tablets help overcome this problem by allowing each family member to have their own device. And they are more budget-friendly than desktops and notebooks."
He said those with greater productivity needs have turned to detachable tablets.
"These devices have gained traction as primary devices for work and it is vital to include them when evaluating the PC market as a whole. Apple and Lenovo's recent success shows that having a tablet offering as a mainstream PC vendor is invaluable."
Anything that facilitates remote working has been in hot demand since March when many governments in the West began initiating lockdowns to contain the spread of COVID-19 – including notebooks, monitors, headsets, videoconferencing and cloud services. ®